Edward (E) Wallis Stevenson
Mena, AR, 1936 - 2017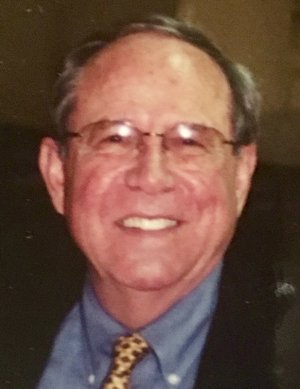 Edward (Ed) Wallis Stevenson died August 1, 2017, at his home in Mena, Arkansas at the age of 80. Ed was born December 15, 1936, to Eugene and Nina Boyce Stevenson in Hatton, Arkansas. A lifelong Arkansan, Ed graduated from Van-Cove High School in 1954 and earned a Bachelor of Science and Business Administration Degree at the University of Arkansas in Fayetteville.
While attending the U of A, Ed was a member of Kappa Sigma fraternity, Blue Key and served as editor and sports editor of the Arkansas Traveler newspaper. In 1960, Ed married the love of his life, Dorothy Ann Spratlin of DeWitt, Arkansas. Upon graduating college together in 1961, the two moved to Mena, Arkansas. Ed then joined his family's timber business, Hatton Lumber Company, established by his father and grandfather in 1932. He and his parents operated Hatton Lumber Company until 1987. The timber industry remained one of Ed's most passionate endeavors. He continued his involvement in the Polk County timber industry for the remainder of his life by expanding Stevenson Tree Farms, founded by his father in 1944. In 1987, Ed purchased KENA Radio station and operated it until 1999 upon its sale.
In 1973, Ed was elected to the Board of Directors of The Union Bank of Mena which began his 44-year involvement with the bank. In 1988 he was elected Chairman of the Board when he and a group of local businessmen purchased the bank in an effort to keep the bank locally owned. Ed remained Chairman of the Union Bank and Union Bankshares until 2016 when he became Senior Chairman.
Ed was a devoted friend and a respected businessman. He was a lifelong advocate for his beloved Polk County and the friends and family who resided there alongside him. He valued the importance of education and was committed to supporting educational opportunities for Polk County residents through his lifetime of involvement with Rich Mountain Community College and the University of Arkansas.
Ed served in numerous capacities in the state and local community, including serving on the Arkansas State Parks and Tourism Commission, and as President of the University of Arkansas Alumni Association, Polk County Election Commission, the Mena Public School Board and the Mena Lions Club.
Of all of his accomplishments and endeavors, his greatest were his three children and nine grandchildren, who adoringly called him Grand Dad. Ed loved his family dearly. His most cherished moments were being together with Dorothy, their children and spouses and grandchildren during summers at their house on Lake Ouachita, at Razorback football games or during holiday gatherings. Ed and Dorothy also loved the opportunities that they had to travel and see many parts of the country with their close friends, particularly their trips throughout the western United States.
He is survived by his wife of 57 years, Dorothy Ann Spratlin Stevenson; two sons, John Stevenson and his wife, Melinda, of Houston, Texas, and their children Caroline, Katherine and Mary Claire; Phil Stevenson and his wife, Leigh Ann, of Memphis, Tennessee, and their children, Drew, Grant and Emma; and daughter Anne Stevenson Glankler and her husband, Chris of Memphis, Tennessee, and their children Lewis, Hal and Lizzy.
A visitation will be held Thursday, August 3 from 5 to 7 p.m. at Beasley Wood Funeral Home. Funeral services will be held on Friday, August 4, 2017 at 11 a.m. at the Grace Bible Church in Mena, Arkansas. Memorials may be made to the University of Arkansas Rich Mountain Foundation. Arrangements are under the direction of the Beasley Wood Funeral Home of Mena.
Published August 3, 2017
OBITUARY SUBMITTED BY:
Beasley-Wood/Billingsly Funeral Home
611 Janssen Avenue, P.O. Box 317, Mena, AR
Phone: 479-394-1310