Clarence Edward Mckenzie
Garfield, AR, 1935 - 2017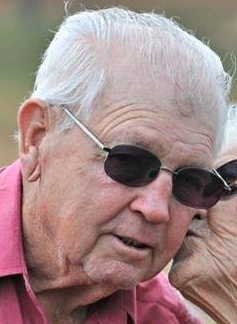 Clarence Edward McKenzie of Garfield passed away peacefully in his home on August 2 at 11:05 and pronounced deceased on August 3 at 1:58 2017. Clarence was born July 15, 1935 to Clifford and Edith (Weaver) McKenzie.
Clarence is preceded in death by his parents, his brother, Clyde of Nebraska, brother Clint of Pea Ridge, and brother Guy of Pea Ridge. Clarence leaves behind his precious wife of 64 years, Marzene Loretta McKenzie (Duty), whom he loves so much, two loving sons, Lonnie Edward McKenzie of Gateway and Christopher Leon McKenzie of Gateway. He also leaves behind one special daughter-in-law of which he called his own, the wife of Chris, Cindy Coylene McKenzie. Clarence has four grandchildren, Adam McKenzie of Pea Ridge, Angie Warford of Gateway, Amanda Cleghorn of Colorado Springs, and Ty Curbow of Branson. Clarence was very proud of his seven great-grandchildren Jeremiah, Josh, Bryrr, Slade, Jordan, Rylee, and Kinslee. He will be greatly missed by so many other friends and family to numerous to mention whose lives he touched.
At the age of 13 he worked as a crane oiler in Nebraska, and then moved on at 15 to become a foreman of pouring concrete at an airport. At the age of 17 he came to Oklahoma for a short break and he met the love of his life and married after one week of dating and took his new bride back with him to Nebraska. From there they moved to Washington for a brief period where he picked potatoes and grapes disliked the weather and moved to sunny California first living in Arbuckle and then on to College City where he worked year round farming and working on equipment. After his job farming he moved to the mountains in Sonora, California working with a logging company. Finally in 1962 he moved to Arkansas where he began his own company AMCO Inc. doing all kinds of dirt work until he retired.
While living in Gateway Arkansas he became a very well known and respected member of the community. Clarence became the driving force behind many community projects. In 1984 Clarence along with Bill Schnitzer began the Volunteer Ambulance Service which is still in effect today. Bill and Him drove several miles up into Missouri to get an ambulance for the community and was a driver for 15 years. Clarence played a key role in bringing City Water to the small town of Gateway and was on the board, as well as, laid most of the water lines for the people of Gateway. He was also an avid member of the Neighborhood Watch program.
Clarence also known as Pa, remained active until his last days. He was an avid gardener growing the best vegetables and always sharing with his friends and family. He also loved to fish, going to yard sales and flea markets, but most of all he loved helping and being with people. He loved just sitting for hours on end with family, friends, or even a stranger and chatting for hours. He always had the best advice and touched the lives of everyone he encountered. He was a wonderful, kind, compassionate man who will be truly missed by all.
Service is set for 2:30 p.m. Saturday, August 5 at Sisco Funeral Home Chapel in Pea Ridge. Burial will be at Walnut Hill Cemetery in Garfield. Visitation will be from 6-8 p.m. Friday at the funeral home. Online condolences may be made at siscofuneralhome.net.
Published August 4, 2017
OBITUARY SUBMITTED BY:
Sisco Funeral Home, Inc.
1312 N Curtis Ave, Pea Ridge, AR
E-mail: spi319@aol.com
Phone: 479-451-1126