DeLois Philpott
Bentonville, AR, 1935 - 2017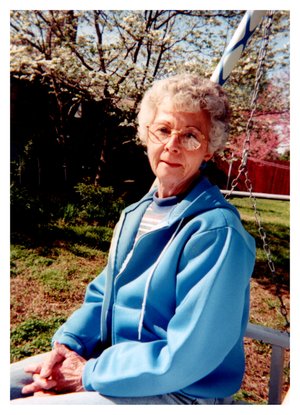 DeLois (Lois) M. Philpott left this world on Friday, Aug. 4, 2017 to join her loved ones that have been preparing a place for her with them and our heavenly family. Lois was born Sept. 11th, 1935 in Erbie, Ark., to Toy and Ruth Burdine. They lived there until 1947 when they moved to Cave Springs, Ark. Lois attended school at Villines Chapel in Jasper, then Center Corner in Lowell and Rogers High School. Lois worked at Munsingwear for 14 years from 1935–1967 when it closed, then went to work at Bear Brands for 10 years from 1967–1977 when it closed. She then went to work at CTS in Bentonville and worked there for 20 years form 1977–1997 at which time they also closed their doors. After this she decided it was time to retire. She married Shirley Philpott on April 3rd, 1954 at the First Baptist Church in Bentonville, Ark. Shirley and Lois lives on the Farm in Cave Springs from 1957–1982. Shirley passed away in 1982 and in 1982 Lois moved to Bentonville. Lois joined the Eastern Star in 1957 and received her 50-year pin in 2007. Lois and Shirley had a good life together, in 1979 for their 25th anniversary they traveled to Hawaii. They also had many good trips to Florida and loved the beach and fishing trips. Lois loved her home, but working in the garden especially with her flowers was her favorite hobby. Lois was saved in 1981 and was baptized on April 1, 2012 at Lake View Baptist Church where she was a member.
Lois was preceded in death by her parents, her husband of 27 years Shirley Philpott, sisters Betty Evans and Mary Vanderpool.
Survivors include 3 nieces Karen Evans of Seligman, Mo., Carol Vanderpool of Bentonville, Ark., and Paula Olden of Lowell, Ark., one nephew Steve Vanderpool of Lowell, Ark. Four great-nieces; Renee Aitken of Tucson, Ariz., Amanda Stamper of Pea Ridge, Ark., Sarah Olden and Samantha Olden of Lowell, Ark. Three Great-great-nephews Brian Aitken and Logan Aitken of Tucson, Ariz., and Jordan Muller of Pea Ridge, Ark., and one Great-great-niece Halie Muller of Pea Ridge, Ark.
Visitation and services will be held beginning at noon, Monday Aug. 7th at Lakeview Baptist Church, Cave Springs, Ark. with interment at Benton County Memorial Park in Rogers, Ark.
Published August 6, 2017
OBITUARY SUBMITTED BY:
Benton County Memorial Park Funeral Home and Crematory
3800 West Walnut, PO Box 328, Rogers, AR
E-mail: kflowell@gmail.com
Phone: 479-636-2412
http://www.bentoncountymemorialpark.com/