Lucille Reynolds Smith
Fordyce, AR, 1924 - 2017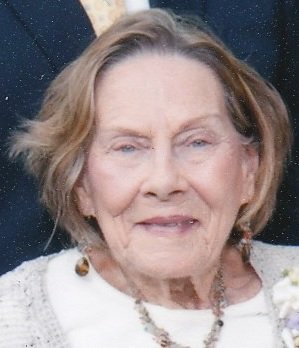 Lucille Reynolds Smith, age 92, passed away Wednesday, Aug. 2, 2017, in her home of Fordyce. She was born in Bradley, Ark., where she grew up, to Tom and Fairy Reynolds, Oct. 20, 1924. She is preceded in death by her husband of 60 years, Rev. G. William "Bill" Smith.
Lucille, as a young woman, attended Henderson College and later graduated, with honors, from UAM in 1968. She was a passionate school teacher for 20 years. Keeping up with her students brought joy throughout her life. As a pastor's wife, she was accomplished at everything from singing beautiful solos to planning various events to wrangling rowdy teenagers on the bus to church camp.
She was active in her community, volunteering at the museum and taking charge of t-shirt sales. She enjoyed her friends of all ages, especially the "ladies who lunched".
Lucille's greatest loves were her family and her faith. She is survived by one son, Sherrod Smith; two daughters, Billie Smith Hopson and husband Chuck of Jacksonville, Texas, and Flossie Smith Barker and husband Buddy of Auburn, Ala.: a devoted friend, Dorothy Ann Jacobs of Fordyce; one sister, Eunice Eaton of Texarkana, Ark., nephew, Tommy Lincoln and wife, Angela; seven grandchildren, Christopher Lilley and wife Kris of Colleyville, Texas, Glenna Smith Rousseau and husband Tommy Bauch of Quechee, Vt., Renee Hamon, Lisa Hopson Harris, Kristen Redding, Melinda Barker and Jane Barker; 10 great-grandchildren, Rachel, Ryann, Jonathan, Talley, Austin, Hilton, Parker, Mason, Sarah and Ben; one cousin, Betty Smith Strong.
Visitation will be Sunday, Aug. 6, 2017, 4-6 p.m. at Benton Funeral Home in Fordyce. Graveside services will be private. Memorials may be made to the Bill and Lucille Smith Scholarship Fund, Ouachita Baptist University, P.O. Box 3754, Arkadelphia, Ark., 71998 Arrangements are by Benton Funeral Home of Fordyce. To sign the online register visit www.bentonfuneralhome.net.
Published August 6, 2017
OBITUARY SUBMITTED BY:
Benton Funeral Home Inc.
501 West 4th Street, Fordyce, AR
Phone: 870-352-3131