Joseph Patrick Gazzola
Fayetteville, AR, 1949 - 2017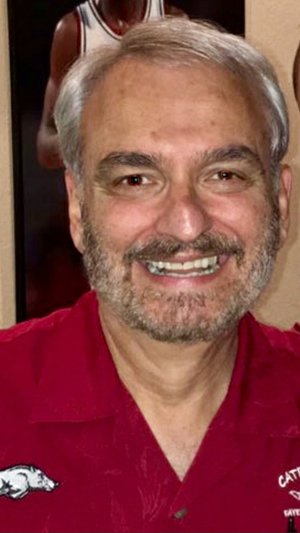 Joseph Patrick Gazzola, 68, of Fayetteville, Ark., passed away peacefully with his family at his side on a beautiful Saturday afternoon on Aug. 5, 2017, at Willard Walker Hospice Home in Fayetteville. In the final analysis, Pat's life could best be described by Abraham Lincoln: "In the end it's not the years in your life that count, it's the life in your years."
Pat was born on Jan. 25, 1949 in Fort Smith, Ark., to Benjamin and Mary Juanita Gazzola; both of whom preceded him in death. Pat is survived by his wife and business-partner-in-life, Janie Parson Gazzola; daughter, Tiffany White Reddick (Brian); son, Britain McMillen White (Kim); grandchildren, Connor, Grace and Sarah Reddick and Natalie, Logan and Claire White; Step-mother, Mary Alice Gazzola; and his sister, Jerri Gazzola. Pat attended public schools in Fort Smith, graduating from St. Anne's before attending college at the University of Arkansas in Fayetteville. After receiving his degree in Razorback, Pat attended law school at Fayetteville, where he received his Juris Doctorate from the University of Arkansas School of Law. Pat's dedication and passion to people and detail served him well in all his business ventures (law, oil & gas, restaurants). While Pat enjoyed great success in business, perhaps his most memorable moment came when he and Janie decided to buy a tiny restaurant just north of Alma on Highway 71, the Catfish Hole. Twenty-four years later, Pat and Janie have grown this small hole-in-the-wall restaurant with a loyal following into a nationally-recognized brand with locations in both Alma and Fayetteville. As many Razorback fans recognize, Pat and the Legendary Catfish Hole have been the go-to-location for the coaches, players, recruits and the University of Arkansas for many years. Pat attributed his success to being a "pretty simple guy" who greeted everyone with a smile, a handshake and would tirelessly answer the countless questions he received every day about the status of the Hogs and/or the latest recruiting news. Pat's passion in life could be found in the three family's that he loved the most: his family, his Razorback family and his Catfish Hole family. Pat will continue to cheer on his beloved Razorbacks from the "best seat in the house". GO HOGS!
A Memorial Service will be held on Wednesday, Aug. 9, 2017 at 2:30 p.m. at St. Paul's Episcopal Church, 224 N. East Ave., Fayetteville, Ark. 72701. A brief reception will be held following the service. The Rev. Lowell E. Grisham will officiate. Services will conclude with a Burial at Fairview Memorial Gardens, Fayetteville, Ark..
In lieu of flowers, memorials may be made to the University of Arkansas Razorback Foundation, 1295 South Razorback Road, #A, Fayetteville, Ark. 72701. To sign the online guest book please visit www.nelsonberna.com.
Published August 7, 2017
OBITUARY SUBMITTED BY:
Nelson-Berna Funeral Home and Crematory
4520 North Crossover Road, P.O. Box 8982, Fayetteville, AR
Phone: 479-521-5000
http://www.nelsonberna.com