Louis Herman Seiter, Jr.
College Station, TX, 1938 - 2017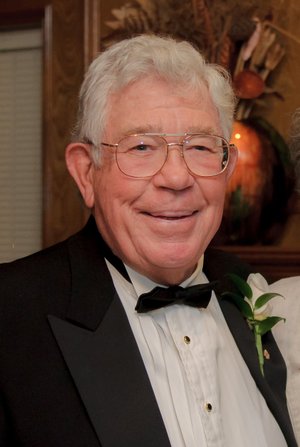 Louis H. Seiter, Jr., 79, of College Station, while surrounded by his family, went to be with his Lord on Friday, Aug. 4, 2017. A time for family to receive friends will be from 5-8 p.m.n on Monday, Aug. 7, 2017 at Hillier Funeral Home of College Station. A Vigil Service and Rosary will begin at 6:30 p.m. Mass of Christian Burial will be held at 10 a.m., on Tuesday, Aug. 8, 2017 at St. Thomas Aquinas Catholic Church in College Station with Msgr. John Malinowski officiating. Interment and Final Military Honors will follow at College Station Memorial Cemetery. Louis was born in Ft. Smith, Ark., to Louis and Hermina Seiter. He attended Subiaco Academy in Subiaco, Ark., where he was a member of the boxing team. He won several boxing tournaments for Subiaco and the Boys Club of Ft. Smith, most notably the 1956 Barny Sugarland Memorial Trophy, which he cherished and displayed proudly in his home. He graduated from University of Arkansas in 1961, with a degree in Chemical Engineering. He was also in ROTC. Upon graduation, he entered active duty and was assigned to the 101st Screaming Eagles Airborne Division at Ft. Campbell. He served his country for 10 years both on Active Duty and in the Reserves. His last unit of assignment was with the 12 Special Forces Group where he obtained the rank of Captain. Louis loved jumping out of a perfectly good airplane and wore his Senior Parachutist Badge with pride. His professional career spanned over 31 years in the Industrial Carbon Black Business, retiring as a District Sales Manager for Engineered Carbons, Inc. He was a member of the American Legion, American Institute of Chemical Engineers, and St. Thomas Aquinas Catholic Church. As an Extraordinary Minister of the Eucharist he ministered to the Catholic residents of St Joseph's Manor and Assisted Living. He was a member of the Knights of Columbus 4TH Degree Assembly. When Louis retired he became a rancher and ran a Cow-Calf operation. He and King, his blue heeler, spent many days sitting on the cabin porch at the ranch enjoying the country air and drinking a cold beer. Louis was an avid reader. His favorite subjects to read about was the 101st Airborne Division, cattle operations and books about his devout Catholic Faith.
He is preceded in death by his father, Louis Herman Seiter Sr; his mother, Hermina Seiter; and his brothers, Eddy and John Allen. He is survived by his wife of 53 years, Barbara; three daughters, LTC Geralyn Martinez and son-in-law Angel; Jeanne Fraiser and son-in-law Bruce; Maria Jimmerson and son-in-law Kevin; grandsons: Caleb Frasier, Jon Martinez, Nathaniel Jimmerson and Auggie (Augustus) Jimmerson; and brothers, Tony, Tom, Kenneth, and James. As an expression of sympathy, memorial contributions may be sent to Subiaco Abbey at www.countrymonks.org. Please share memories and tributes to Louis at www.hillierfuneralhome.com.
Published August 7, 2017