Robert Kennedy "Scotty" Freebairn
of Little Rock, AR, 1937 - 2017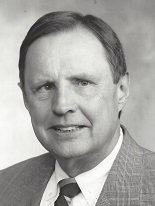 Robert Kennedy "Scotty" Freebairn passed away in Little Rock, Arkansas on August 19, 2017, due to complications from congestive heart failure. He was born on November 20, 1937 in La Salle, Illinois, the seventh son of Millie and Robert D. Freebairn. As a youngster, Scotty moved with the family to Texas, when his father accepted a job with Globe Aircraft in Fort Worth. His mother passed away when Scotty was 5 years old, and he was largely raised by his stepmother, Lorraine Hankins Freebairn, who had a profound influence on his life.
Scotty worked his way through college with a part-time job with Acme Brick Company and graduated from TCU. As a student at TCU, Scotty was an officer and member of Sigma Phi Epsilon Fraternity. He also served active duty with the Texas National Guard in 1961-1962 during the Berlin crisis. Upon college graduation, he accepted a full-time job with Acme Brick culminating in a career of 52 years as Regional Sales Manager with the company.
He is survived by his beloved wife, Carol; daughter, Amy Frankel and son-in-law, Richard Frankel of Rockport, Maine; son, John Freebairn of Kansas City, Missouri; grandchild, Ploy Freebairn of Benton, Arkansas; and a brother, Kenneth Thompson of Fort Worth, Texas.
Over the years, Scotty and Carol traveled extensively, including multiple trips to Scotland. Scotty was a talented musician and very active with St. James United Methodist Church in Little Rock, playing the piano for the Saturday night service for forty years. He was also on the administrative board, finance committee, Lunch Bunch group, and chaired columbarium sales for St. James United Methodist Church.
Memorial Service is Thursday, August 24, 2017 at 3 p.m. at St. James United Methodist Church. 321 Pleasant Valley Drive, Little Rock Arkansas 72212, officiated by Rev. Carness Vaughan. In lieu of flowers please consider a contribution to the Endowment Fund at St. James United Methodist Church.
Arrangements by Little Rock Funeral Home, (501) 224-2200. Scotty's online guestbook may be signed at www.littlerockfuneralhome.com.
Published August 22, 2017
OBITUARY SUBMITTED BY:
Little Rock Funeral Home
8801 Knoedl Ct., Little Rock, AR
Phone: 501-224-2200