Charles Robert Quick
Bella Vista, AR, 1985 - 2017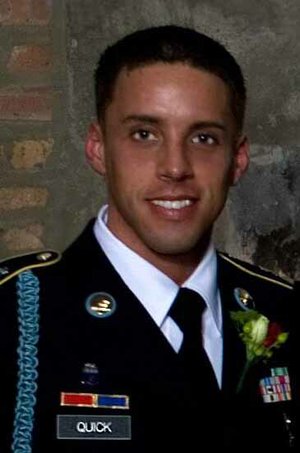 Charles Robert Quick, age 31, of Bella Vista, Arkansas, passed away on January 26th, 2017.
Charles is survived by his wife, Jennifer of Bella Vista, Arkansas, four children: Angelo Kristopher age 5, Violet Camille age 4, Ivy Rose age 2 and Charles Robert Jr. age 5 months; mother, Christine Sands of Bentonville Arkansas; father, Ronald Quick of Maribel, Wisconsin; grandmother, Anne Stephens of Oceanside, California; grandparents, Malcolm and Mary Jane Beu of Wrightstown, Wisconsin. His siblings, Angela Luzzo, Dominic Luzzo and Morgan Link. Aunts, Uncles and Cousins.
Charles is a veteran of the Iraq War, where he earned several medals, including the Army Commendation Medal, Army Achievement Medal, Army Good Conduct Medal and the Iraq Campaign Medal (2 Campaign Stars). He attended Kemper Military School and graduated End Time Harvest Christian Academy in 2004. Charles joined the Army in 2005. He bravely served our country in two tours to Iraq and volunteered to be placed on orders to support humanitarian aid missions for Hurricane Katrina and Gustav. In 2014 Charles became a Certified Commercial Diver, an accomplishment he was very proud of. Charles had a heart of gold and a contagious smile. Big in life and love, he always looked out for the underdog. He was quick to throw a fist, sometimes maybe a little too quick; knowing it came out of love and his need to protect those he cared for.
His love for his country was second only to his wife, Jennifer Torraco Quick, and his 4 beautiful children. His life will be celebrated on Monday, February 6th at 12 noon at the Bella Vista Funeral home followed by his burial at the Fayetteville National Cemetery at 2 p.m.
Sometimes the strongest among us are the ones who smile through silent pain, cry behind closed doors and fight battles nobody knows about. If love could have saved you, you would have lived forever.
In lieu of flowers, donations may be made to the Quick Children Childcare Fund and mailed to 4605 W. Pleasant Drive, Rogers, Arkansas, 72758. On-line condolences may be made at www.funeralmation.com.
Published February 3, 2017
OBITUARY SUBMITTED BY:
Bella Vista Funeral Home and Crematory
2258 Forest Hills Blvd, Bella Vista, AR
E-mail: office@funeralmation.com
Phone: 479-855-1611