Cornelia Jane Carter Sundermann
of Little Rock, AR, 1922 - 2017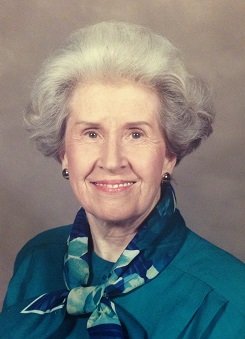 Cornelia Jane Carter Sundermann (Connie) of Little Rock died February 14, 2017. She was born October 20, 1922 in Lebanon, Tennessee. She is survived by her sons, Richard Jr. (Joan) of Russellville Ark., John (Cathy) of Greenwood, S.C., and William (Gretchen) of Coppell, Texas; and a sister, Priscilla Carter Holbert of Annandale, Va., along with nine beloved grandchildren: Julia, Jane, Suzanne, R. Henry III, Derek, Matthew, Alexander, Carter, Evan; and many nieces and nephews. She was preceded in death by her husband, Richard Henry Sundermann, her father, Morgan Higdon Carter, her mother, Jane Houston Carter, her brother, William Houston Carter, and a sister, Althea Carter Slaughter.
She grew up in Abilene, Texas, Portland, Maine, and Gainesville, Fla. where she graduated from PK Yonge High School at the University of Florida. She attended David Lipscomb College in Nashville, Tenn., the Riverside Hospital School of Nursing in Jacksonville, Fla., and received the Bachelor of Science in Nursing degree at Vanderbilt University where she met her husband who was a student at Vanderbilt Medical School. Following graduation Connie served as a public health nurse on the Sumner County staff where she cared for patients in isolated areas of northern Tennessee. She and Richard were married in 1950, and Connie worked as assistant chief of nursing education at the Veterans Administration Hospital in Nashville, Tenn. until the birth of Richard Jr.
After the family moved to Little Rock in 1962, Connie enjoyed work with PTA, scouts, church, and other community groups. In 1966 she accepted a part time position as research assistant in the department of pediatrics at UAMS. She joined the College of Nursing faculty in 1972, and during a year's leave she received a Masters Degree from the University of Arkansas. During her teaching career, she served two years as the Chairman of the Alumni Council. She retired in 1987 as Associate Professor and a scholarship was established in her honor. In 2008, as part of the Vanderbilt School of Nursing Centennial Celebration, she was included in the 100 Leaders: 100 Years recognition to honor alumni having made contributions to the profession of nursing.
In retirement, she was a board member of Family Service Agency and the Little Rock Departmental Club. She was a member of First Christian Church, where she served as parliamentarian of the board and enjoyed singing in the choir and the Glorias Women's Ensemble. Her family with nine grandchildren was the greatest source of pride and satisfaction. She loved the ocean, music, and art and sharing all these with her family and friends. Memorials can be made to the Cornelia Sundermann Scholarship fund at UAMS College of Nursing.
Services will be held on Saturday, February 18 at 11 a.m., preceded by visitation beginning at 10 a.m. at Little Rock Funeral Home, 8801 Knoedl Ct. (NW corner I-630 and Barrow Rd.), with Rev. Jim Munns officiating. Interment will follow at Forest Hills Memorial Park in Alexander. Arrangements by Little Rock Funeral Home, (501) 224-2200. Connie's online guestbook may be signed at www.littlerockfuneralhome.com.
Published February 16, 2017
OBITUARY SUBMITTED BY:
Little Rock Funeral Home
8801 Knoedl Ct., Little Rock, AR
Phone: 501-224-2200