Townsend Durant Wolfe III
of Little Rock, AR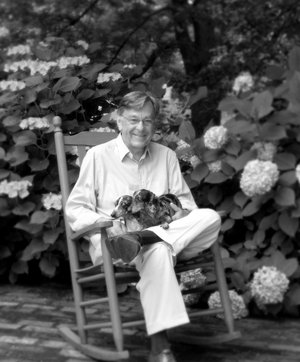 TOWNSEND DURANT WOLFE III, retired director and chief curator of the Arkansas Arts Center, died peacefully at home surrounded by his family on Jan. 14, 2017. He was born in Hartsville, S.C., on Aug. 15, 1935, and is survived by his adoring wife of 17 years, Dr. Brooks Gibson-Wolfe, and four children: Juliette Hightower and her husband, John; Mary Bryan of John's Creek, Ga., and her husband, Jim; Townsend Durant Wolfe IV, of Cripple Creek, Colo., and his wife, Franke; and Zibilla Lee Wolfe of Little Rock. He graduated from the Sewanee Military Academy in 1954. From there, he received a Bachelor of Fine Arts degree from the Atlanta Art Institute in 1958 and a Master of Fine Arts degree from Canbrook Academy of Art in 1959. In 1970, he did post graduate work at the Harvard Institute of Arts Administration. He received several honorary doctorates, including an Honorary Doctor of Fine Arts degree from Memphis College of Art.
He moved to Little Rock in 1968 to assume the twin positions of Director of the Arkansas Arts Center as well as Chief Curator. Boasting a thick South Carolina accent, he exuded charm, sophistication and wit. He was also a recognized artist himself and an expert in all facets of the fine arts. He is credited with launching a renaissance of the fine arts in Arkansas. He had confidence and youthful exuberance. When asked by real estate and insurance magnate Billy Rector during the interview process in 1968 what made him think he would succeed as a thirty-three year old, he answered: "I'm too young to fail."
Jeane Hamilton, who also served on the search committee that brought Wolfe to Arkansas and was a fervent supporter throughout his career, says simply "He stuck with us and brought us to excellence."
Under his precise and passionate leadership, he grew the Arkansas Arts Center into a renowned institution with an international reputation. Annual attendance at exhibits mushroomed from 80,000 to 343,000. The Art Center's collection of works soared in value to $35 million dollars and the Foundation endowment grew to $21 million dollars.
A Children's Theatre was restructured within the Arts Center, and an Artmobile put on the road to travel to every corner of the State. A Decorative Arts Museum was opened in the Pike-Fletcher-Terry Greek Revival Mansion. It was his mission to expose every Arkansan to art, but especially the State's young people. He was zealous in this cause and taught successive generations of Arkansans how to appreciate art.
As an administrator, Wolfe excelled as well. By everyone's account, he knew the Arts Center budget inside and out and was a strict taskmaster. Businessman and devoted Arts Center supporter Warren Stephens says that Wolfe knew art and numbers equally well. "He had a great eye for art," says Stephens, "but he also knew where every penny was" in the Arts Center operation. He also had a whimsical side and a hearty laugh.
Thom Hall, deputy curator, who worked with Wolfe for 28 years, adds, "The quality of the art works he acquired is remarkable and is recognized as such all over the world. He was sensitive in collecting and particularly wanted to include works by women, works by African Americans and other minorities, works by sculptors and objects makers, works by self-taught and outsider artists - works by big names and unknown artists alike. Quality was the important factor."
His greatest vision, according to most, was to focus the Arts Center on a niche where it could excel, and that chosen niche was unique art works on paper. As a result, the Arts Center has one of the best collections of art on paper in the world. Businessman Curt Bradbury, who has been past chair of the Arts Center Foundation, said it was Wolfe's genius to see that works on paper could be masterpieces as well as oils on canvas.
Tom Hoving, past director of the Metropolitan Museum of Art in New York, who was his former teacher, praised Wolfe's vision in this regard and the collection he had amassed. Acclaimed artist Will Barnet said of Wolfe early on that he was unique in today's museum world. "He doesn't go by trends but by what he believes in and feels is important," Barnet said.
Townsend Wolfe earned numerous honors as an artist and was a curator of exhibits throughout the world on disparate subjects. He famously curated a 20th Century American Sculptor Exhibition at the First Ladies' Garden at the White House in 1995. In addition to a wide array of professional awards and memberships, he was a member of the National Council of the Arts and a member of the National Museum Services Board and was awarded the Creative Spirit Award from the Pratt Institute in New York for his ongoing work in promoting African American artists.
In retirement, his interests expanded beyond art and the Arts Center and dwelt more on his family, friends, and his ever present dachshunds. He, in partnership with his wife, Brooks, created and installed a permanent exhibit in the Donald W. Reynolds Health and Science Building on the Arkansas State University Campus in Jonesboro. Before his death he praised his "pooches" and Brooks as purveyors of unconditional love.
Those who worked with him and knew him best describe him as honest with a great eye for good art. He was decisive and confident and he knew what he wanted. He then worked like a dog to get it.
Brooks Gibson-Wolfe wrote: "Good art grows your soul. It changes you much like religion. Townsend brought good art to the people of Arkansas. He transformed Arkansas." The family wishes to thank the caregivers, Earl Asher, Jason Ross, Ann Sweitzer, Jennifer Skinner and Arkansas Hospice, for their excellent care.
A memorial service will be held at Trinity Episcopal Cathedral on Monday, Jan. 16, 2017 at 2 p.m. Reception and family visitation to follow in Morrison Hall. Donations may be made to the Arkansas Arts Center, P.O. Box 2137, Little Rock, Ark. 72203-2137, and Trinity Episcopal Cathedral, 310 West 17th Street, Little Rock, Ark. 72206. Arrangements by Ruebel Funeral Home, www.ruebelfuneralhome.com.
Published January 15, 2017
OBITUARY SUBMITTED BY:
Ruebel Funeral Home
6313 West Markham Street, Little Rock, AR
Phone: 501-666-0123
http://www.ruebelfuneralhome.com