Leetona Grable Baxley
England, AR, 1920 - 2017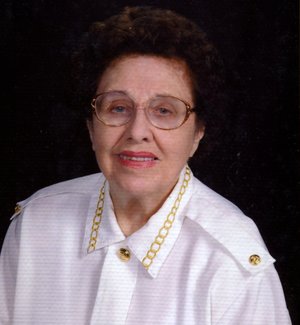 Leetona Grable Baxley, 96, went to be with her Lord and Savior on May 31, 2017 in Little Rock, Arkansas. She was born October 22, 1920 in Enola, Arkansas, to William and Virgie Weaver Grable. She was married to Acie N. Baxley on November 9, 1943 during World War II, while home on a short leave from the U.S. Navy. After his discharge from the military they made their home in England, Arkansas for the rest of their lives. They celebrated 51 years of marriage until his death on January 4, 1995.
Mrs. Baxley attended several schools during her early years but graduated from Plum Bayou High School at Wright, Arkansas in 1941. This was the first class to graduate from the school and then returned there to teach for 2 years at the elementary level. She and her two sisters loved music and sang often on local radio programs. They also performed at many functions, especially churches, throughout Faulkner and Jefferson Counties. After she married and started her family they became her sole priority. She was a homemaker and fabulous cook that prepared a large lunch daily. For several years, she was a Girl Scout leader, PTA member and a Room Mother at school activities. For 27 years she and Acie owned and operated Baxley NAPA Auto Parts Store.
Leetona was a faithful member of Landmark Baptist Church for 70 plus years. She taught multiple classes, choir member, assistant pianist and sang in the Ladies Trio. She had currently held the distinction of being the oldest living member. She loved her church and what it meant to her and her family.
Mrs. Baxley was preceded in death by her parents, husband Acie, son, Mark Baxley; granddaughter, Amber Darlene Baxley; two sisters, Bronnie Hogue, Conway, Mary Kraus, Little Rock. She is survived by her daughter, Becky Wallace (Jimmy), England; granddaughter, Lee Ann Winkler, England; grandchildren, Rebecca Winkler and Baxley Winkler, Monticello; and many nieces, nephews, cousins and friends.
Visitation will be Saturday, June 3 at 9 a.m., one hour prior to the service at Landmark Baptist Church. Funeral will be at 10 a.m. with Bro. David Inzer officiating. Burial will follow at Mulberry Cemetery. Roller England Funeral Home, (501) 842-3939, will be in charge of the service. Pallbearers will be Herbert Krissel Jr., Nick Brown, Gerald (Butch) Hogue, Basiel Newton, Hershel Newton, Danny Sheppard and Lindle Sheppard Jr.
Memorials may be given to Landmark Baptist Church Van Fund, P.O. Box177, England, Ark. 72046 or Cavalier Healthcare of England, Activities Fund, c\o Donna Dill, 400 Stuttgart Hwy., England, Ark. 72046.
A special thanks to Landmark Baptist Church and Bro. David Inzer, staff of Cavalier Healthcare and special friends Connie Henderson, Herbert Krissell Jr. and Nick Brown for their many acts of kindness, especially their visits. Online guestbook: www.rollerfuneralhomes.com/england.
Published June 2, 2017
OBITUARY SUBMITTED BY:
Roller-England Funeral Home
202 Stuttgart Highway, P.O. Box 97, England, AR
Phone: 501-842-3939