Darrell Wade Young
of Little Rock, AR, 1943 - 2017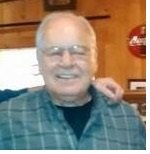 DARRELL WADE YOUNG, 73, of North Little Rock, Ark., passed from this life on Thursday, June 1 from natural causes.
Born Aug. 20, 1943 to Elva Fay Harvey Young-Ivy and Austin Wade Young he was one of 10 children. As a student during the 1957 integration crisis of Little Rock Central High School, he was deeply impacted by personally witnessed events resulting in a strong respect for all humanity which endures through his children. Early work life led him to the factories of Michigan until love of home brought him back to his father's appliance repair business. Motivated by love of family and work ethic, his career progressed to propriety of Target Torque Converters, Inc. in North Little Rock. His balance of work and fun is evidenced by many family memories of quick corny jokes, Summer camping and vacation trips across the country as well as his love of ATV adventures with his brother.
Darrell was preceded in death by sisters Elva Gayle, Delores Pinkerton, Patsy Spikes, brother Larry Young.
He is survived by three children, Kelly Michelle Driggers, Darren Wade Young and Tony Jay Young; mother of the children and former wife, Sandra Wilcox Young Criswell; grandchildren, Cody Driggers, Justin Driggers, Alexa Driggers, Savanna Young, Calum Young, Chance Young, Sean Young, Briley Young, Jade Larsen, Jacob Wilson and Caleb Wilson; sisters, Joyce Campbell, Jane Sanders, Carol Zorn, Teresa Torres; and brother, Terry Young.
Memorial Service will be 2 p.m., Tuesday, June 6, 2017 at Roller-Owens Funeral Home, 5509 John F. Kennedy Blvd., North Little Rock, Ark., 72116. (501) 791-7400. Visitation one hour prior to service. Memorial to be Officiated by nephew, Rev. Bryan Torres.
Because of his faith in Jesus Christ, he is now at home with our Creator.
Published June 5, 2017
OBITUARY SUBMITTED BY:
Roller-Owens
5509 JFK Blvd., North Little Rock, AR
E-mail: owens@rollerfuneralhomes.com
Phone: 501-791-7400