Maxine Anderson
Fayetteville, AR, 1918 - 2017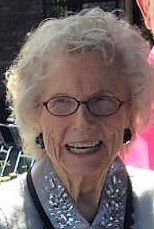 Maxine Anderson of Fayetteville, Arkansas. She lost her first husband to polio, leaving her with two very young sons. Sixteen years later she lost her second husband to a heart attack, leaving her with a very young daughter. She lost her third husband after they moved to Arkansas to enjoy retirement. Yet, throughout all of her sorrows, she retained her joyful, positive attitude and sense of humor. Maxine was one of a kind and she passed peacefully to her heavenly home on June 2, 2017 just weeks shy of her 99th birthday.
The youngest of nine children, Maxine was born on July 31, 1918 at the family farm in Boxholm, Iowa to Otto and Mary Stark. She married Harold Brown in Des Moines, Iowa in 1940 and they moved to California where Harold worked as a lumber jack and Maxine was the camp cook. When their first son was three, they moved back to Pilot Mound, Iowa to farm the family land. Their second son was born there just 11 months before Harold contracted polio and passed soon after. Maxine remained on the farm until her sons were both in school and then moved to Des Moines and began a successful career at The Northwestern Bell Telephone Company.
While raising her sons and pursuing her career, Maxine married Robert Sullivan and when their daughter was six years old, Bob passed away. Maxine continued her busy life in Des Moines, raising her children, working with her sisters to cook and bake wonderful Swedish dishes including decorating Christmas cookies that they would donate to children's charities, and enjoying many friendships that would last a lifetime. In 1978, Maxine married Hans Anderson, and retired to Rogers, Arkansas where she remained in her own home until the last four years.
Maxine is survived by her children, Jerry (Becky) Brown, Gene (Mara) Brown and Michelle (Jerry) Bland, grandsons, Ryan (Bonnie) Brown and Eric Brown, granddaughter, Cindy (Mike) Wolfe, and several great-grandchildren. She was preceded in death by her parents, brothers, Lee, Mike, Ed and sisters, Delia, Belva, Edna, Frances, Ione and granddaughter, Jessica Williams.
A Celebration of Life will be held at 11 a.m. on Friday, June 16th at the First Presbyterian Church, 1901 S 26th Street and New Hope Road, Rogers, Arkansas.
Published June 14, 2017