John Peter "Pete" Hieronimus
Bella Vista, AR, 1931 - 2017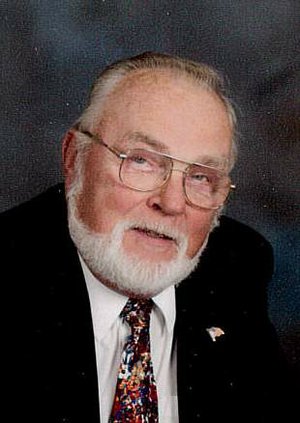 John Peter "Pete" Hieronimus, 85, died on Saturday, June 17, 2017 at home in Bella Vista, Arkansas. Born to Henry G. and Charlotte V. (Smith) Hieronimus in Chicago on September 2, 1931, Pete spent his childhood on the south side of Chicago. Pete attended Miami of Ohio in Oxford, Ohio and was an active member of the Beta Theta Pi college fraternity. He met his future wife, Birdie Lou Ziegler, during that time. They were united in marriage on the same day he was commissioned into the United States Navy – June 8, 1953.
Pete was a proud Navy Veteran. He retired as a Lieutenant and served on the USCGD Burton Island and the USS Lyman K. Swenson during the Korean War. After returning from active duty, Pete and Birdie made their home in Hilliard, Ohio. Pete worked for the Ohio Bell Telephone Company, and then worked for the Insurance Company of North America (now CIGNA). The family moved to Fort Dodge, Iowa in June 1966, and then to Ankeny, Iowa in January 1971. Pete eventually became self-employed with MidAmerican Adjustment Company.
Pete and Birdie retired in June 1993 and moved to their retirement dream home – Bella Vista, Arkansas. Pete was always an active member of his community and his church: Young JayCees in Hilliard, Junior Chamber of Commerce, Presbyterian churches wherever he lived, the Lions Club, Military Officer Association of American (MOAA), Bella Vista Television. He was extremely proud of his work at the VA Medical Center in Fayetteville, where he served as a volunteer driver for many years, transporting Veterans to medical appointments. He drove over 130,000 accident-free miles during his volunteer career.
He loved golf, fishing, travel and M*A*S*H; he also never missed his 5 o'clock martini or making pancakes on Saturday mornings. He met friends wherever he went and could tell stories until the proverbial cows came home. He belonged to church choirs and often was the narrator at various events in the community.
Pete was preceded in death by his parents, his wife, Birdie (2/24/1994) and his second wife, Betty "Betts" G. Brenner/Schillereff (8/14/2010). He is survived by his three daughters, Cheryl Hieronimus, Altoona, Iowa; Laura Bishop (Robert), Tomah, Wisconsin; Jennifer White (Thomas), Russell, Iowa, and his three grandchildren, Jeffrey Bishop (Minneapolis, Minn.), Jane Bishop (Minneapolis, Minn.) and Elizabeth White (Altoona, Iowa). He is also survived by his brother, Marshall Hieronimus, of Portland, Ore. and sister, Janet (Jack) Morehead of Indianapolis, Ind. and many nieces and nephews. In his last life-chapter, Pete was loved and cared for by his very special friend, Mickie Victor, of Bella Vista.
Memorial services will be held at 1 p.m., Wednesday, June 21st at the Presbyterian Church of Bella Vista, 1880 Forest Hills Blvd., Bella Vista, Ark. 72715. Burial will be at Ankeny Memorial Gardens, Ankeny, Iowa.
Memorials may be made to Bella Vista Community Television, 1801 Forest Hills Blvd., Suite 203, Bella Vista, Ark. 72715 or the Music Department of the Presbyterian Church of Bella Vista.
Arrangements are by Bella Vista Funeral Home and Crematory, Inc. On-line condolences may be made at www.funeralmation.com.
Published June 20, 2017
OBITUARY SUBMITTED BY:
Bella Vista Funeral Home and Crematory
2258 Forest Hills Blvd, Bella Vista, AR
E-mail: office@funeralmation.com
Phone: 479-855-1611