Tommy Lane Cooper
Springdale, AR, 1933 - 2017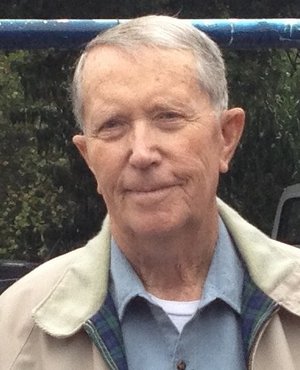 Tommy Lane Cooper, 83, of Lowell, passed away Wednesday, June 21, at Circle of life Hospice in Springdale after a long and courageous battle with cancer. He was born Aug. 1, 1933, in Sonora to Ralph and Ida Sanders Cooper.
Tommy graduated Springdale High School in 1950. During the Korean conflict, he joined the U.S. Navy and was stationed in Pensacola, Fla. He married the love of his life, Bonnie Feagin, on Dec. 26,1951, in Huntsville. He worked for Heekin Can Company after leaving the Navy and retired from the U.S. Postal Service with 30 years of service. After retirement, he embarked on a second career with Cardinal Health.
Fishing was his lifelong passion, and Tommy maintained an abundant garden throughout his life. He also enjoyed a friendly game of cards and a competitive game of pool, and he liked playing golf. He was a member of House of Worship in Hindsville.
He was preceded in death by his parents; one brother, H. B. Cooper; and one sister, Frances Cooper Wilson.
He is survived by his wife of 65 years, Bonnie Cooper; three sons, Tommy R. Cooper and his wife, Marcia, of Lowell, Marty Cooper and his wife, Amy, of Haileyville, Okla., and Mike Cooper and his wife, Kim, of Springdale; nine grandchildren, eight great-grandchildren, and two great-great-grandchildren; three special brothers-in-law and their wives, Doc and Janet Feagin, Darl and Betty Feagin, and Wayne Lee; and many good friends. He will be.missed dearly.
A memorial service will be held at 2 p.m. on Wednesday, June 28, at Sisco Funeral Chapel in Springdale, officiated by Pastor Bill Williams. The family will receive friends and relatives at 1 p.m., prior to the service. In lieu of flowers, contributions may be made to the Springdale Senior Center, 203 Park St. in Springdale, where Tommy spent many hours playing pool with his friends.
Online condolences may be left at www.siscofuneral.com.
Published June 25, 2017
OBITUARY SUBMITTED BY:
Sisco Funeral Chapel
705 W. Meadow St., Springdale, AR
Phone: 479-751-4577
http://www.siscofuneral.com