Michael Barnett Wright
of Little Rock, AR, 1937 - 2017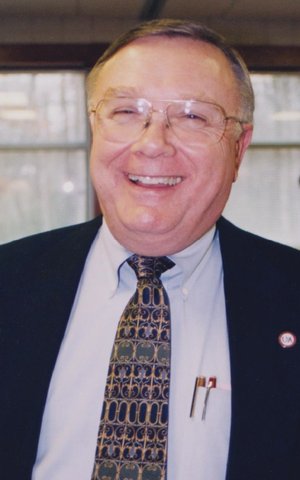 MICHAEL BARNETT WRIGHT, 79 of Little Rock, died on June 23, 2017. He was born in Little Rock on Sept. 21, 1937, son of the late Max Barnett Wright and Berniece Tomlinson Wright.
He was a graduate of Little Rock Central High School, Little Rock University, and the University of Arkansas, Fayetteville. He was employed for almost 34 years by the University of Arkansas Cooperative Extension Service, retiring as Assistant Director in 1998.
He was active in the program of the Boy Scouts of America for over 55 years. He served as Scoutmaster of Troop 6 for 34 years, during which time over 40 Scouts attained the rank of Eagle Scout. He was a holder of the National President's Scoutmaster Award of Merit, the District Award of Merit, and the Silver Beaver. He was a Vigil Honor member of the Order of the Arrow. He held various leadership positions in Frontier District and served the Quapaw Area Council as Vice President for Administration and a member of the Executive Board.
He was a former member of Markham United Methodist Church where he served as a Trustee, Chairman of the Finance Committee and Chairman of the Administrative Council. At the time of his death, he was a member of Henderson United Methodist Church.
He was a life member and Past President of the Optimist Club of Rosedale. He had served as treasurer of the Cooperative Extension Service Federal Credit Union since 1983.
Survivors are his wife, Louise W. Wright; brother, Ralph D. Wrght and wife Betty of Little Rock; niece, Laura Wright Morford of Cypress, Texas; two step-children, Kevin Pittman (wife, April) of Fayetteville, and Allison Madison (husband, Larry) of Seattle, Wash.; and five step-grandchildren. He was preceded in death by his first wife, Janeil Slayden Wright, who died in 1994.
Memorial service will be held at Pinecrest Funeral Home on Saturday, July 1, 2017 at 1:30 p.m.
In lieu of flowers, memorials may be made to the Quapaw Area Council, Boy Scouts of America, 4330 Cantrell Rd., Little Rock, 72202.
To share memories and condolences with the family, go to www.pinecrestfuneralhome.com.
Published June 26, 2017
OBITUARY SUBMITTED BY:
Griffin Leggett Forest Hills
1200 Highway 5 North, Alexander, AR
Phone: 501-455-1067
http://www.griffinleggettforesthills.com