Leslie Graham Ray Ewing
Bella Vista, AR, 1941 - 2017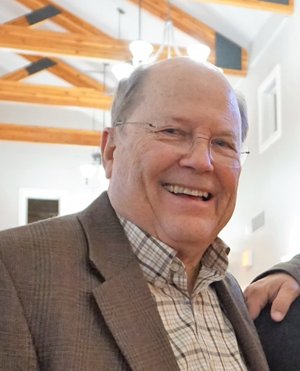 Leslie Graham Ray Ewing, 76, of Bella Vista, Arkansas died May 24, 2017. He was born to Margie and Leslie Ewing in Laredo, Texas on May 6, 1941.
Leslie was preceded in death by his beloved wife of 28 plus years of marriage, Jackie Ann. He has four children: Steve Ewing of Garland, Texas; Kathy Adreon of Coweta, Oklahoma; Bobby Ewing of Garland, Texas; Chris Ewing of Wylie, Texas and two step children; Tonie Rys of Plano, Texas and Mike Broberg of Richardson, Texas. He leaves behind nine grandchildren and six great grandchildren; a brother, Tony Ewing of Round Rock, Texas and a sister, Ginny Altheimer of Denver, Colorado.
He proudly served his country; first in the U.S. Naval Reserve while in high school in Laredo, Texas and after graduating high school in 1959, he entered the U.S. Air Force and served for eight years, during the Vietnam War. Leslie was stationed on the beautiful Pacific island of Guam, where his beautiful daughter, Kathy, was born and second son, Bobby, was conceived. He was trained as a microwave equipment specialist and, upon his tour completion, returned to Lackland Air Force base in San Antonio where he completed his enlistment as an instructor of cryptographic equipment. After leaving the Air Force, Leslie worked for an electronics firms in the Dallas area (LTV Electro systems and later, E-Systems) for 30 years, during which time he served a stint as a technical representative in Vietnam (1969). He retired from Raytheon Company in 2000. Leslie and Jackie retired to Bella Vista, Arkansas in September, 2006.
A funeral service will be held at 11 a.m., Saturday, May 27th, at Bella Vista Funeral Home Chapel, 2258 Forest Hills Blvd, Bella Vista, Arkansas. Burial will follow at Bella Vista Memorial Gardens Cemetery. On-line condolences may be made at www.funeralmation.com.
Published May 26, 2017
OBITUARY SUBMITTED BY:
Bella Vista Funeral Home and Crematory
2258 Forest Hills Blvd, Bella Vista, AR
E-mail: office@funeralmation.com
Phone: 479-855-1611