Ronnie Stell
Birdtown, AR, 1957 - 2018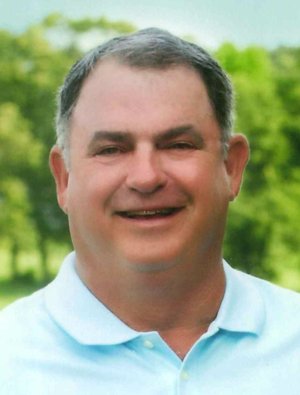 Ronnie Stell, age 60, of Birdtown, passed away Saturday, Jan. 6, 2018. Ronnie was married to Teresa Erwin Stell. He was born Nov. 11, 1957 in Russellville, Ark., a son of the late Bill Stell and Mary Ruth Flowers Stell of Center Ridge.
A lifelong born-again Christian, Ronnie was of the Baptist faith. He was an opportunist owning and operating several businesses in Conway County, including Ronnie Stell Trenching, Stell Farms, Stell Motors, Canebrake Properties, and various independent projects. He had a talent for basketball, helping win a state title at Nemo Vista with his brother and playing at the collegiate level at Central Baptist College, Hendrix College, and Arkansas Tech University before knee injuries removed him from the game.
His many successes in life stemmed from his hard work. He started out as a dairy farmer in Center Ridge and working his way into the owner of multiple prosperous businesses. He spent many days and nights deliberating over the decisions he made that would impact his family and the families of those he employed. Ronnie was a servant to others, providing jobs to those he could; support to kids at Nemo Vista; the shirt off his back to a friend in need; and countless other acts of selflessness throughout his life.
Ronnie did a lot for his wife and four kids. He was not one for being the center of attention. His favorite activity was spending time with the people he loved - a list of individuals that extended far beyond his family. Ronnie had a love for hunting, fishing, and collector cars. He put much of his time and energy into his farm. He spent countless Saturday mornings with his closest friends at Koch's Body Shop. Ronnie dedicated many of his resources to building and growing the 2low Hunting Club with his family and close friends. He was a board member of the Fish Lake Club, something he looked forward to every Monday night. He loved to go to the casino with friends. Riding around with one of his many buddies was one of his favorite things. He loved a good fish fry, especially with his uncles and friends in Center Ridge. Catching up with his dad's brothers would always bring an ear-to-ear grin to his face. Ronnie also loved the Berkemeyer family, and his wife's aunts and uncles were some of his favorite people. He left a hole in the hearts of many that will never be filled.
His most beloved thing was spending time with his five grandkids, especially while checking cows on the farm, hunting, fishing, or watching them play sports. Being "G" was by far his proudest accomplishment. He was notorious for building or buying things and working on projects to better the lives of his five favorite boys: Dalton, Cayden, Parker, Corbin, and Hudson.
In addition to his wife and mother, Ronnie is survived by his children, Ashley (Jermey) Hutchins of Solgohachia, Matt Stell and Sophie LeBlanc of Nashville, Tenn., Cody (Kaitlyn) Stell of Greenbrier, and Courtney Stell of Conway; brother, Randy (Diane) Stell of Springfield; grandchildren, Dalton Kellar, Cayden Hutchins, Parker Stell, Corbin Stell, and Hudson Stell; sister-in-law, Regina Erwin of Morrilton; nieces and nephews, Candace (Justin) Brantley, Lauren (Kris) Carter, Dylan Erwin, and McKenzie Stell; various aunts, uncles, and cousins; and two great-nieces.
Other than his father, he was preceded in death by his mother-in-law, Helen Berkemeyer Ward, and brother-in-law, Ronnie Erwin.
Funeral services will be 10 a.m. Wednesday, Jan. 10, 2018 at the chapel at Harris Funeral Home in Morrilton with Bro. Dennis Holmes officiating. Burial will be at Pleasant Hill Cemetery in Center Ridge. The family will receive friends at the funeral home from 6-8 p.m. Tuesday, Jan. 9. Pallbearers will be Stan Koch, David Beck, Will Bartlett, Tony Johnson, Andy Freeman, and Jamie Mallett. Honorary Pallbearers are Jermey Hutchins, Dylan Erwin, John Beck, Dennis James, Donnie Hill, Jack Knapp, Mark Stobaugh, David Andrews, Ed Hart, and various other close friends, they know who they are. In lieu of flowers, memorial donations can be made to a fund in Ronnie's honor at Petit Jean State Bank for kids' athletic programs at Nemo Vista Schools. Arrangements are by Harris Funeral Home of Morrilton. Online guestbook: www.harrisfuneralhomes.net.
Published January 8, 2018
OBITUARY SUBMITTED BY:
Harris Funeral Home, Inc.
118 South Moose Street, P.O. Box 439, Morrilton, AR
Phone: 501-354-4575
http://www.harrisfuneralhomes.net/