Jacquelyn Joan Yancey Hall
North Little Rock, AR, 1931 - 2019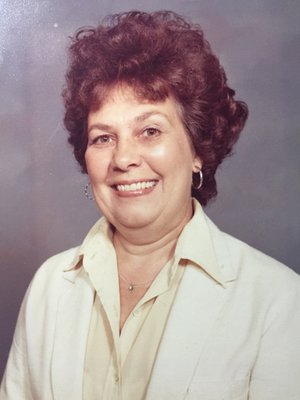 Jacquelyn Joan Yancey Hall, a lifelong North Little Rock resident active in her community and cherished by her family and friends, died Tuesday, April 23, 2019, at her home. She was 87.
She was called "Jackie" by all who knew her, even by her youngest grandchildren. She was best known for being direct, honest and sometimes a little sassy, for collecting old dolls and other toys for the benefit of her grandkids, and for telling everyone she met to "behave." She also loved to tell her children and grandchildren that everyone in town was a cousin. Jackie was such a part of North Little Rock that the physician who delivered her on November 23, 1931, was Dr. William Burns, the namesake for the city's biggest park, Burns Park.
She was the daughter of J.B. and Opal Jewel Yancey, who met while working at Fort Roots veterans hospital. Her sisters Geraldine Del Giudice and Barbara Lucisano preceded her in death. In 1974, she was widowed when her husband, Lt. Col. Bobby Emerson Hall, died in the crash of his F-101 jet near Little Rock Air Force Base.
Through the years, she served as PTA president at Levy Elementary School, North Little Rock Times staff member, Memorial Hospital Auxiliary volunteer, officer in the North Little Rock Boys Club Auxiliary, Levy Baptist Church member, North Little Rock Woman's Club member, and frequent volunteer at the polls on Election Day. In the 1964 presidential election, she was locked into the polling place to count the votes so long that her husband rode a bike there to get the car keys and they wouldn't let him in.
Jackie was an avid follower of the news, subscribing to both the Gazette and Democrat for many years, and was co-editor of the 1949 North Little Rock High School yearbook. She organized and attended several Class of '49 reunions with her many high school friends.
Jackie is survived by her son, James (Pam) Hall; and her two daughters, Kathy (Bob) Bartholmey and Lisa (Mark) Jacob. She is also survived by 13 grandchildren: Ben (Amy) Hall, Jordan (Nick) Ross, Julie (Chris) Schwilling, James (Amber) Bartholmey, Billy Bartholmey, Jonathan (Shelley) Bartholmey, Andrew Bartholmey, Michael Bartholmey, April Bartholmey, Jennifer Bartholmey, Peter Bartholmey, Maureen (Greg) Etter and Katherine Jacob. She is survived by 10 great-grandchildren.
Visitation is set for 9:30 a.m. on Saturday, April 27, followed by a funeral service at 10:30 a.m., both at Griffin Leggett Rest Hills, 7724 Landers Road, North Little Rock. Donations in Jackie's name may be made to Friendly Chapel of the Nazarene, 116 South Pine, North Little Rock, Ark. 72114 (www.friendlychapel.org). Online guestbook is available at www.griffinleggettresthills.com.
Published April 25, 2019
OBITUARY SUBMITTED BY:
Griffin Leggett — Rest Hills
7724 Landers Road, North Little Rock, AR
Phone: 501-835-3515
http://www.griffinleggettresthills.com/