Nancy Pierce McVey
Fayetteville, AR, 1927 - 2019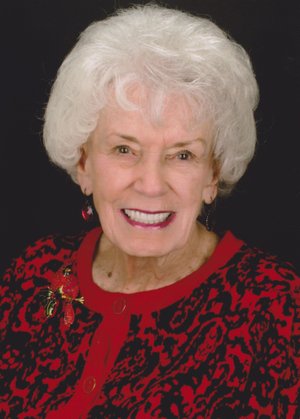 Nancy Pierce McVey, age 91, passed away on Wednesday, April 24, 2019, at Butterfield Trail Village in Fayetteville. She was born on July 25, 1927, in Pittsburgh, Pennsylvania, to Arthur Harold and Catherine (Stiffel) Pierce. She is preceded in death by her loving husband, Kenneth "Kent" McVey.
At the time of her retirement in 1996, Nancy was the manager and interior designer for Norm, Inc. For many years she had been closely involved in mental health issues, having served on the local, state and national Boards of the Mental Health Association. She received the Community Service Award from the Arkansas Center of Community Mental Health Centers for her contributions to mental health care in Arkansas. Additionally, she was a member of the founding board of the Ozark Guidance Center, a volunteer probation officer for the Washington County Juvenile Court, a rape crisis advocate, a crisis intervention volunteer, a volunteer for Interfaith Caregivers and for Washington Regional Medical Center.
She was a Rotarian, a Paul Harris Fellow and a recipient of the Betty Lighton Award for Volunteer Service. She was a member of the Fayetteville Chamber since 1991 and was actively involved with many committees including Diplomats, Governmental Relations, Small Business and Transportation. Nancy was a Chamber of Commerce Diplomat from 1999 through 2015 and attended over 100+ ribbon cuttings annually. She was named Diplomat of the Quarter and 2004 Chamber Volunteer of the Year and received the 2014 Lifetime Diplomat Award.
She joined Central United Methodist Church in 1959 where she served as a member of the staff and parish relations committees, administrative board, board of trustees and as an usher for many years. At the time of her passing, she was a member of the Asbury Class.
She is survived by her daughter, Robin Scott and husband Michael of Corona, Calif.; her two sons, Pierce McVey and wife Kathleen of Seattle, Wash., and Kelly McVey and wife Polly of Columbus, Ind.; 11 grandchildren, Gloria Scott, Christina Sheby, Ryan Scott, Aaron Scott, Daniel Scott, Stephen Scott, Angela Scott, Brandon Scott, Kittredge McVey, Mason McVey and Will McVey; and nine great-grandchildren, Devlyn Mahan, Makellah Mahan, Phin Scott, Rhett Scott, Selah Scott, Oaks Scott, Sienna Sheby, Ethan Sheby, and Felicity Scott.
A visitation will be held from 5-7 p.m. on Tuesday, April 30, 2019, at Nelson-Berna Funeral Home in Fayetteville. A funeral service will be held at 2 p.m. on Wednesday, May 1, 2019, at Central United Methodist Church at 6 W. Dickson Street, Fayetteville, Ark. 72701. Entombment will follow immediately at Fairview Memorial Gardens in Fayetteville. In lieu of flowers, memorial contributions may be made to Peace at Home Family Shelter at https://peaceathomeshelter.org/donate/ or by mailing to 1200 Garland Avenue, Fayetteville, Ark. 72703. To place an online tribute, visit www.nelsonberna.com.
Published April 29, 2019
OBITUARY SUBMITTED BY:
Nelson-Berna Funeral Home and Crematory
4520 North Crossover Road, P.O. Box 8982, Fayetteville, AR
Phone: 479-521-5000
http://www.nelsonberna.com