Anna Ulrich
of Little Rock, AR, 1925 - 2019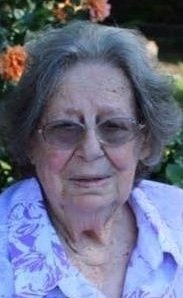 Anna Ullrich, of Little of Rock. The story of a life well-lived isn't told in words. It's told by the laugh lines on a face, the love that is shared freely and generously with family and friends, the memories made and treasured with children and grandchildren and perhaps, above all, the way folks feel when they are with you. The life of Anna Bertha Ihle Ullrich was exceptional, yet simple, as she lived a life measured not by material things, but by love and good deeds, and the desire to always nurture and care for those around her. A well-lived life by every definition.
Born October 8, 1925 in the small town of Paris, Arkansas, Anna grew up on a farm, where she learned the values of family and a strong work ethic. These beliefs were her moral compass, providing a rich foundation for the family she built with the love of her life, Anthony Ullrich. The couple was blessed with a beautiful marriage that lasted for 70 years, setting an example for generations of Ullrichs.
As Anna and Anthony's family grew, so did her involvement in local organizations and activities. She proudly served the local Girl Scouts as a troop leader, where she made a lasting impression on many young girls lives, taking them camping, hiking, teaching outdoor cooking skills and doing countless arts and crafts.
Anna also worked as a cook in the school cafeteria at Our Lady of Good Counsel in Little Rock for more 10 years. She loved cooking a variety of foods, but had a special love for homemade cakes, pies, noodles and dumplings. She also had a strong love for sewing, embroidering and crochet. She made her children's clothes and the most beautiful wedding dresses for several of her children's weddings. Later in life she took up crochet, creating baby blankets, afghans and hot mats for family, friends and neighbors as well as hundreds of hats for cancer patients.
A woman of tremendous faith, Anna was an active member of the Catholic Church at Our Lady of Good Counsel Parish in Little Rock for 62 years. She was involved in many ministries including the Ladies Alter Society, the choir, fund raising, and funeral dinner services. Upon spending time in Texas to be closer to family, her faith only grew stronger, and she developed a great love for her new Holy Cross Catholic Church family in The Colony.
Observing nature and its glory gave Anna much joy, as she saw beauty in all of God's creatures – especially flowers and birds. Her favorites were the White Rose and the Cardinal, or as Anna would say "Red Bird." Cardinals are a symbol of love and good deeds, and her family knows that when they see one of Anna's beautiful "Red Birds," they know she is near and watching over them.
Anna was preceded in death by her father, Leo Ihle, and mother, Bertha Ihle, brother, Charles Ihle, two daughter-in-law, Phyllis Ullrich and Darlene Ullrich, and two granddaughters, Linda Ullrich and Stephanie Ullrich. She is survived by her loving husband, Anthony Ullrich, five children, John Ullrich of Rosebud, Ark., Gilbert Ullrich of Prescott, Ark., Paul Ullrich of Texarkana, Ark., Cathy (Ullrich) Swiderski (Ed) from Chester, N.H. and Betty (Ullrich) Jones (Kerry) of The Colony, Texas and her kid sister, Mildred (Tiny)(Ihle) Stehle. In addition to her children, Anna leaves behind 10 grandchildren: Angela Noggle (Jimmy) from Rose Bud, Ark., John Michael Ullrich (Eve) from Portland, Ore., Tonya Munnerlyn (Darren) from Humphry, Ark., Jamie Berger (Shawn) from Searcy, Ark., 
David Swiderski (Brittney) from Wells, Maine,
Alyssa Swiderski from Chester, N.H., Parker Jones from The Colony, Texas, Logan Jones from The Colony, Texas as well as eight great-grandchildren.
Visitation is Friday, August 9 from 6 to 7 p.m. at Griffin Leggett Healey & Roth Funeral Home, followed by The Rosary at 7 p.m. A Funeral mass will be held at Our Lady of Good Counsel Church on Saturday, August 10 at 10 am followed by a graveside burial at Forest Hills Cemetery.
A memorial mass will be held at 6 p.m. on Tuesday, August 13 at Holy Cross Catholic Church in The Colony, Texas. Donations in Anna's memory may be made to the Anna Ullrich Memorial Fund at Holy Cross Catholic Church in The Colony, Texas, which will be used for a dedication stained glass window. Please visit www.griffinleggetthealeyroth.com for the online guest book.
Published August 8, 2019
OBITUARY SUBMITTED BY:
Griffin Leggett Healey & Roth
5800 West 12th Street, Little Rock, AR
Phone: 501-661-9111