Shelley Ford Evins
Newport, AR, 1942 - 2019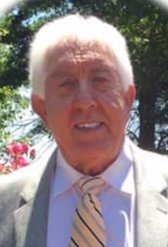 Mr. Shelley Ford Evins of Newport, Arkansas, departed this life on Monday, August 5, 2019, at the age of 77. He was born February 14, 1942, in Newport, the son of Clarence Douglas Evins and Minnie Mae (Ford) Evins.
Mr. Shelley loved and enjoyed working. He was currently a valuable Holden-Conner Associate serving over 30 years. Following graduation from Newport High School in 1960, he attended Georgia Technical School of Engineering. Moving home to help his family following a severe accident by his father, he and a friend, Jimmy London, became the prote'ge'es of Mr. Fred Williams and Mr. Jeff Ellis of the Arkansas Soil and Water Conservation. Under Mr. Williams and Mr. Ellis, Mr. Shelley learned the very fine art and exacting science of engineering. These skills and his incredible work ethic made Mr. Shelley one of the most sought after advisors in Jackson County, serving as either President of, member, or advisor to every levee district in Jackson and surrounding counties.
Through the years, he worked for Dale Baughn Construction and the owner of Delta Land Forming. Mr. Shelley's first love was his family, especially his children and his granddaughter, who the very mention of, would make his face light up brighter than the sun. He attended Holden Avenue Church of Christ with his children when they were young.
Mr. Shelley enjoyed Westerns, listening to Merle Haggard, and joking with people. And, was always known to have a calculator at hand.
He was preceded in death by two sons, Kevin Douglas Evins on June 24, 1995, and Grant Kendall Evins on January 4, 2014; one brother, C.A. Evins; a special cousin, Hayley Evins Ozier; and his parents. Mr. Shelley is survived by one daughter, Kimberley Gail Evins Montgomery of Newport; one granddaughter, Madison Grace Montgomery of Newport; one sister, Norma Jo Evins Madden of Beedeville; his niece and nephew, Stanita Madden Taylor of Newport and Keith Madden of Searcy; several great-nieces and nephews; and a host of beloved family members and a lifetime of friends.
Funeral services are 10 a.m. Friday at Holden Avenue Church of Christ with Mr. Glen Knabe and Mr. Mike Wood officiating. Interment will follow in Carter Cemetery at Pennington.
Those honored to serve as pallbearers are John Conner, Jr., Michael Lewellyn, Darrin Hutchinson, Sam Nicholson, Chad Odell, Jeff Evins, Sam Evins, Keith Madden, Mark McGhee, and Dion Sutherland. Honorary pallbearers are John Conner, Sr., Floyd Campbell, Max Felts, Bill Landreth, Mike McDermott, Shane Hutchinson, Joe DuPree, Ben Smith, Cat Sullins, Trigger Barnes, Therman Walker, and Associates of Holden-Conner.
Memorials may be made to The Children's Home, 5515 Walcott Road, Paragould, Ark. 72450., or the Jackson County Center for Independence, 8149 Curtner Drive, Newport, Ark 72112.
To leave a message of condolence, light a memorial candle, or sign the guest register, please visit our website at www.jacksonsfh.com. Arrangements by Jackson's Newport Funeral Home.
Published August 9, 2019
OBITUARY SUBMITTED BY:
Jackson's Funeral Home
1900 Malcolm Avenue, Newport, AR
E-mail: khunt@jacksonsfh.com
Phone: 870-523-5822