Tena Bultena
Malvern, AR, 1929 - 2019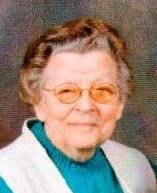 Tena Bultena, age 89, of Malvern, died Saturday, August 10, 2019 in Hot Springs. She was born on November 18, 1929 in Zyldyk, Holland, to the late Johannes Brondijk and Aaltje Martens Brondijk. Reared and educated in The Netherlands, she worked on a farm until she came to the United States. She married Loyd Bultena on May 28, 1953, and they immigrated to America in September, 1953. Tena was a faithful member of First United Methodist Church and its Friendship Sunday School class. She sang in the choir for many years, and was a member of United Methodist Women.
She is survived by her husband, Loyd; their children, Alice Overturf (Alan), and Penny Gassman, all of Malvern, and Loyd B. Bultena (Elaine) of Little Rock; a brother, Johan Brondijk of the Netherlands; seven grandchildren, Matthew and David Bultena, Kimberly Clemons, Wade Overturf, Emily Gassman, Garner Gassman, and Angela McGowan; 10 great-grandchildren; and three great-great-grandchildren. Tena was also preceded in death by two brothers and two sisters.
Visitation will be from 10 until 11 a.m. Tuesday morning, August 13, 2019 in the Fellowship Hall of First United Methodist Church, Malvern, with the funeral service immediately following at 11 a.m. in the church sanctuary under the direction of J.A. Funk Funeral Home. Reverend Bruce Bennett and her grandson Wade Overturf will lead the ceremony.
Pallbearers will be Matthew and David Bultena, Jason Clemons, Garner Gassman, Alan Overturf, and Ralph Williams. Honorary pallbearers are Dr. Bruce Burton and Dr. Stephen Divers.
Memorials may be made to First United Methodist Church or to The Petty Center. The family extends their thanks to the staffs of The Crossing and Encore Health and Rehab for their excellent care of Tena. Online condolences may be sent via jafunkfuneralhome.com.
Published August 13, 2019
OBITUARY SUBMITTED BY:
J.A. Funk Funeral Home
318 Ash Street, Malvern, AR
E-mail: ja_funk@sbcglobal.net
Phone: 501-332-4625