Charles O'Donnell
Fayetteville, AR, 1933 - 2019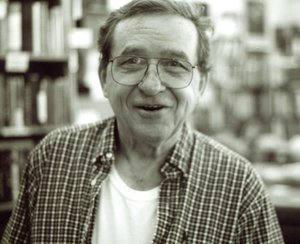 Charles O'Donnell's life was a winding, colorful journey.
He fought down demons, and built a real legacy. He came a long way.
Charles was born in Boston, Mass., on December 20th, 1933, in the midst of the Great Depression, to two immigrants from Ireland, Owen and Bridget O'Donnell. Charles was the oldest of five children, and his family was dirt poor, living in tenement apartments.
For his first job, at the age of eight, he roamed all across Boston, shining shoes. As a gifted youth, he earned a place at the prestigious Boston Latin School. After high school, he enlisted in the Army in 1952, and served in the Korean War.
On his return, he married the mother of his three daughters — his first family. He also, unfortunately, returned from the war with a severe drinking problem, which he struggled with for many years, until finally he beat it on his own. He was fiercely proud and independent.
He arrived in Fayetteville in the late '60s, a good time to come to Fayetteville. He was known on Dickson Street as a stellar pool player, a beast at dominoes, an opinionated orator, and a generous, soft-hearted Irishman with a thick Boston accent.
In 1978, Charles co-founded the nationally recognized Dickson Street Bookshop with his partner, Don Choffel. The shop, as many will tell you, is bigger on the inside than it is on the outside. It's a labyrinth of long corridors, containing a hundred thousand worlds, waiting to be cracked open and read, books on any subject you can imagine — used & out-of-print.
Charles had a special love for Irish literature and Irish history, and he made sure the shop reflected this deep interest, among others. The bookshop is an extension of his mind and soul, and always will be. Charles held a map of the store in his head, and could direct customers to the right section for what they were looking for, based on often vague queries.
When folks observed he must read an awful lot, he'd tell them that in fact he'd read "every title in the store," which seems impossible… until you think about it for a second.
Over the decades he met and befriended many authors, professors, and lovers of literature who passed through, and he always left an impression. Charles even appears briefly as a character in a novel that's probably somewhere on the shop's shelves right now, as the best pool player on Dickson Street, which he may very well have been at the time.
His wife and mother of his fourth child, a son, met him at a Dickson Street restaurant, at the bar. Neither were drinking, but their eyes met in the mirror, and corny as it sounds, it really was love at first sight. Gayle was enamored with this handsome man and his literary spirit.
Charles's passions were his wife; his four children, grandchildren, and great-grandchildren; the Bookshop; all things Ireland; and the Boston Red Sox (even this season, the bums).
In the last twenty years, Charles survived a series of health problems that, frankly, most wouldn't have survived. In 1999, he had a heart attack that ruptured a ventricle. The surgeons called him a "Miracle Man" when he pulled through. Then, in 2001, his heart patch leaked, and he was flown to Nashville, where a talented surgeon, after a lengthy procedure, proclaimed, "you're fixed." Charles remembered those words.
Since then, Charles was hospitalized numerous times, for lung, heart, and kidney related issues, but he always fought to live, for his passions — and he did, for more than two decades beyond that first miracle. And that doesn't even include the time he narrowly avoided a shotgun blast that shattered the bookshop window behind him.
He always took advantage of second chances. Even though his poor physical health eventually kept him from his beloved bookshop, his intellectual health never failed.
He knew books. He worked from home for the past three years, tending to bookshop tasks between dialysis, doctor's appointments, and hospital stays.
His last day of work was Monday. He died on Tuesday morning.
He leaves a family who loves and misses him, including his beloved wife, Gayle Wing O'Donnell, and his four children, Kathleen (Kenneth), Bridget (Robert), Maurina (Larry), and Eoghan (Erin). Additionally, he's survived by his grandchildren, Johnathon, Sean, Megan, Rachel, Patrick, Erin Kelly, Matthew, and Molly; and his great-grandchildren, Abriella, Iris, Reilly, and Silver.
A Memorial will be held 2 p.m. Saturday August 17, 2019 at Moore's Chapel in Fayetteville. If anyone would like to share a good memory of Charles at the service, there will be opportunity to do so. To place an online tribute visit www.mooresfuneralchapel.com.
Published August 16, 2019
OBITUARY SUBMITTED BY:
Moore Chapel
206 West Center Street, P.O. Box 1149, Fayetteville, AR
Phone: 479-442-7314