Kathleen Nolan Selakovich
of Little Rock, AR, 1924 - 2019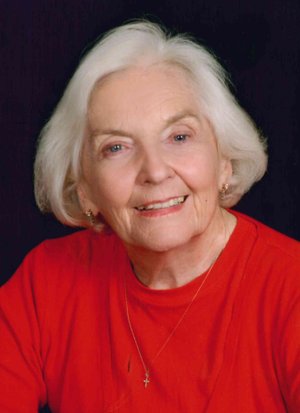 KATHLEEN NOLAN SELAKOVICH, 95, of Little Rock, passed away August 16th, 2019 peacefully in bed and surrounded by her family. She will be remembered by her children as a beautiful and caring mother and by her grandchildren as "Nana Kay." She always saw the good in every person and was a role model for her children.
She is preceded in death by her husband, Dr. Walter George Selakovich, parents Dr. Arthur and Beatrice Nolan, sister Gertrude Bland, son Kevin Selakovich, and great grandchild Charlotte Macha. Survivors include: Walter Jr. (Tina) of Little Rock, T.A. of Chicago, Richard (Dale) of Little Rock, Steve of Little Rock, Patrick (Kristina) of Dallas, Martha Heard (Mark) of Memphis, Erin Davis (Ben) of Little Rock, and Anne Sanders (Clay) of Little Rock. She is also survived by ten nieces and nephews, twenty-three loving grandchildren, and seventeen great grandchildren.
She was born May 23, 1924 in Madison, South Dakota to Dr. Arthur and Beatrice Nolan and spent her early childhood in Madison. During World War II, she worked in California for six months testing oil for airplane engines for the U.S. Air Force. She graduated from the University of South Dakota in 1946 with honors where she was a member of Kappa Alpha Theta, Mortar Board, and debate team. For a short time after college, she was a schoolteacher. While attending the university, she met the love of her life on a hayride, which sparked a romance and marriage that lasted over 50 years. They were married in 1947 and over the years lived many places while Walt completed his orthopedic training; from South Dakota to Illinois, Hawaii, Louisiana, and finally settling their home in Arkansas in 1957. In the mid to late 80's her and her friend, Jeanne Kreth opened up West and Nolan store here in Little Rock. As her kids grew up and moved out of the house she poured her heart into serving others, which many say was her "calling in life."
She was a charter member of Christ The King Catholic Church and of Building Bright Futures. She spent many years volunteering with St. Joseph's Helpers who worked with Arkansas Pregnancy Resource Center, StewPot Little Rock, Martha's Ministry, and provided meals for funeral receptions.
In her spare time, she played bridge, golfed at Pleasant Valley Country Club, participated in a rosary group, and enjoyed cooking for her family.
Visitation will be held at Christ the King Church on Friday, August 23rd from 6-7 p.m., followed by a Rosary Service at 8 p.m. A Funeral Mass will be held on Saturday, August 24th at 10 a.m. at Christ the King Church followed by a "celebration of her life" at the Family Life Center.
In lieu of flowers, memorials can be made to Christ the King Catholic Church, 4000 North Rodney Parham Road, Little Rock, Ark., 72212 and St. Joseph's Helpers, P.O. Box 25413 Little Rock, Ark. 72221. Online obit and guest registry at www.SmithFamilyCares.com.
Published August 18, 2019
OBITUARY SUBMITTED BY:
North Little Rock Funeral Home
1921 Main St, North Little Rock, AR
E-mail: mail@nlrfh.com
Phone: 501-758-1170