Mark Chadick
Hot Springs, AR, 1946 - 2019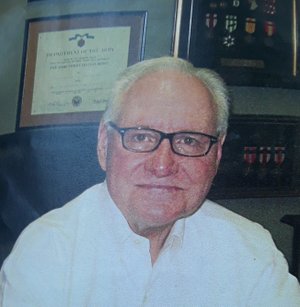 Mark Braden Chadick, age 72, died on August 15, 2019. He was born in Pine Bluff on August 21, 1946. He was the son of the late Mark A. Chadick and Bobbye Oaks Chadick. He was reared and received his early education in Pine Bluff, graduating from Pine Bluff High School in 1964.
Mark always cherished his many aunts, uncles and cousins from both the Chadick and Oaks families. He especially enjoyed the annual Chadick reunion which was held at Oakland Park for over thirty years. Each year, Chadick family and friends, sometimes up to one hundred people, would gather on a Sunday in August to celebrate their family heritage. Over the years, he came to love Beverly's family as well.
In his early years, Mark worked in his father's concrete construction business as a concrete finisher. One of his first jobs was working at McDonalds when it opened in Pine Bluff in 1963.
Mark joined the US Army in 1966. He completed the airborne paratrooper school in March 1967. He was eventually assigned to the 82nd Airborne Division in Fort Blagg, North Carolina.
Mark received his orders to Vietnam and served with the 101st Airborne Division during his eighteen-month tour. He was awarded the Bronze Star. He was extremely proud of his military and Vietnam service and was a lifetime member of the 101st Airborne Division Association. In his later years, he enjoyed reconnecting with veterans who had served with him in Vietnam.
In 1971, Mark married Beverly Willis Chadick in Seattle, Washington. They returned to Pine Bluff, and he resumed his formal education. He graduated from the University of Arkansas at Monticello in 1974 and entered the University of Arkansas School of Law, Fayetteville. He graduated with a Juris Doctor degree in 1977.
Mark began the practice of law in Pine Bluff where he eventually opened his own law firm, the Chadick Law Firm. He enjoyed serving his clients and often bragged about how long his legal assistants had worked with him. He always felt fortunate to have such loyal people work for him. His legal career spanned over forty years.
During his career, Mark served as a special judge in many courts in Jefferson County. He also did volunteer work for many community groups in Pine Bluff and served as chairman of the first Pine Bluff Big Bass Classic. He was awarded the "Boss of the Year" award on several occasions. In 2012, Mark received VOCALS "Jefferson County Attorney of the Year" award for his volunteer services to the elderly and poor. In 1995, he and Bev moved to Hot Springs.
They were blessed to have two sons, Braden and Jordan. Mark always felt fortunate for the relationship that he had with his sons; he was very proud of the men they had grown up to be. Eventually, grandchildren came along, and he loved and cherished each one of them and the memories they made.
Mark is survived by his sons Braden (Amber Matthews), Jordan (Melissa) and his former wife Beverly Willis Chadick; his grandchildren Marron, Conner, Anna Kate and Caroline; his brother Steve Chadick and his sister Tammye Chadick Davis; his uncle Jack Oaks (Linda); his special friends Betty and Emma Ray, and a host of cousins.
In lieu of flowers memorials may be made to the Wounded Warrior Project or to a favorite charity of your choice.
All are invited to celebrate Mark's life at 2 p.m., Monday, August 19th, 2019 in the chapel of Gross Funeral Home with Dr. Bob Bledsoe officiating.
Visitation will start at 1 p.m..
The online obituary, guestbook, and memorial tribute are available at www.GrossFuneralHome.com.
Published August 18, 2019
OBITUARY SUBMITTED BY:
Gross Funeral Home
120 Wrights St, Hot Springs, AR
Phone: 501-624-1244