Robert Rodney Ryan
Fayetteville, AR, 1924 - 2019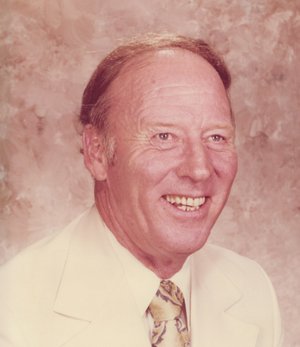 Robert Rodney Ryan, 95, of Fayetteville, Ark. passed away peacefully to meet his Lord and Savior surrounded by his loved ones on Thursday, August 22, 2019 at his home. He was born in Gurdon, Arkansas on March 26, 1924 to Alvin J. Ryan and Anna B. Edmonds Ryan.
The saying that "our loss is great, but heaven's gain is greater" is reflected in Rodney Ryan's life. He was so much to so many. Rodney's life demonstrated the importance of being able to put others' needs before his own, accepting responsibility for the duties that call us in life, and being committed to God and family.
Growing up in a small southern Arkansas town allowed Rodney to explore many avenues of play. Through the wonder of nature, kickball and other kid activities, he learned the joy of the outdoors. This theme continued as he became a Gurdon Go Devil on the football team, a Henderson State College Reddie and a Ouachita Baptist Tiger! Outdoor sports and recreation became vital interests in his life and he was good at them. But WWII changed his course when he was drafted in 1943 at age 18. Military service in the 373rd lasted 35 months with 19 spent as a medic on Guam where Rodney cared for casualties from Iwo Jima and Okinawa. He was discharged with the rank of sergeant. Army stories were shared with family and friends in the later years of his life; some brought tears to their eyes while others brought laughter.
After the war and completion of college with a B.A. degree from Henderson State Teachers College, Rodney entered the working world as a coach/teacher at Gould High School in 1948. It seemed that at least half the players became more than just athletes as Rodney and his new wife, Mary Ella (a teacher at Gould), seemed to have kids at their home all hours of the day! In 1949, Rodney took a position with the Pine Bluff School System as Director of Physical Education and coach/teacher. While there, he created a recreation program for the elementary school that gained recognition throughout other areas of the state. Being in the education arena and enjoying it motivated Rodney to take the job offer of University of Arkansas Intramural Sports Director in 1953. Along with that position he was also the coach of the golf and tennis teams and had additional teaching responsibilities. He also fully enjoyed time as a free-lance referee for local high school sporting events and U of A red white games. While teaching and with Mary Ella's encouragement Rodney completed his Master of Science at the U of A in 1953.
As Christians since childhood, the Ryans joined First Baptist Church Fayetteville in 1953 and remain in the top 5 of the longest all-time members of the church. Daughter, Kandice, arrived in 1954. Rodney's life now focused on the two most precious people to him, and he began nurturing his career and looking for ways to make this world a better place. During the late 1950's, Rodney became an active Fayetteville community citizen by looking for ways to become involved with the city. He found a great joy in connecting people because it was through networking that things happened. He served on the Board of Directors for the Fayetteville Youth Center for 35 yrs and saw many projects brought to fruition (to name a few…building of additional gym at the old site; creation of many recreation programs including summer day camps; working numerous hours with the board to establish the Donald W. Reynolds Boys and Girls Club new facility.) He served on the City of Fayetteville's Parks and Recreation Advisory Board for 23 years (1967-1990) as its longest serving member, and participated in many projects (developed partnerships with the public schools and University such as establishing School Parks; creation of the 1% hotel, motel and restaurant tax for the benefit of the Parks Department; creation of the Park Land Dedication Ordinance to add park land and funding of city parks; purchase of Gulley Park; addition of Lake Fayetteville, the city's water source, as a city park). These experiences, his love for the profession of education and building relationships encouraged him to pursue the degree of Doctor of Education at the University of Northern Colorado with a focus on recreation. After six summers of traveling and living in Greely, Colorado student housing, Rodney received his doctorate degree in 1963. During the school years from 1953-1963, Dr. Ryan had also gained momentum and recognition at the U of A and was appointed Chairman of the Recreation Department.
Further Service: He and a representative from Arkansas Tech University Recreation Department organized the Arkansas Recreation and Parks Association in the early 1960's and Rodney served as president and in numerous other capacities including Chairman of the Continuing Education Committee. Rodney held numerous positions with the American Alliance for Health, Physical Education Recreation and Dance, Southern District, including VP Recreation Division; member of the Future Directions Committee; Service Awards Committee; and Elections Committee. He was on the Professional Development Committee, Southern District National Recreation and Parks Association. He also served with the Arkansas Association for Health, Physical Education, Recreation and Dance as President, Chairman of the Recreation Division, and Executive Board member. He was on the Elections Committee of the National Recreation and Parks Association Southern District, American Alliance for Health. Rodney was a Curriculum Consultant for Emporia State University, Emporia, KS; Consultant for community school programming for the Joint Meeting with City and School Personnel, Bentonville, AR; sponsored Workshop Sessions for the Cooperative Extension Service at various times for 20 years; United Way Board, 1992; 25 yrs. on the Council on Aging in Washington County including President and other offices (instrumental in establishing the Meals on Wheels program); Member of Fayetteville Noon Lions Club for over 15 yrs.; Cub Scout leader and Youth Basketball Coach for his grandsons; member of the Washington Regional Medical Center Auxiliary serving as volunteer host on a weekly basis and WRMC Cancer Support Home for many years; member and President of the University of Arkansas' Retiree Association over six years and still active member. As a member of First Baptist Church Fayetteville since 1954, he served as a Sunday school teacher for various age groups from 5 yr. old to adult. He was an active participant on numerous church committees, served as the co-chair of the blood drive, and assisted with the annual First Baptist Church Vacation Bible School.
Rodney received numerous honors, awards and grants including: Arkansas Association for Health, Physical Education and Recreation honor award 1973; Certificate of Appreciation, American Association for Leisure and Recreation, 1976; Award of Excellence, Professional of the Year Award, Arkansas Recreation and Park Association, 1978; Supportive Award, Fayetteville Youth Center 1979; Arkansas Recreation Professional of the Year, 1988, awarded by the Arkansas Association for Health Physical Education Recreation and Dance, Recreation Division in recognition for outstanding contribution to the field of recreation; in 1989 award from U of A students stating "Father of Recreation- for the Years of your Care, Education and for a Friend We Could Always Count On."; In April 1989, the Arkansas Recreation and Parks Association presented to Dr. Ryan a plaque for his service of 36 years as an educator, counselor, and friend to the Recreation and Parks Profession and for his contribution to the field of Recreation and Parks having enhanced the quality of lives for thousands of Arkansas citizens; Gurdon High School Academics Hall of Fame, 2004. One of Dr. Ryan's legacies is the scores of recreation and sports professionals working throughout Arkansas and the country. He instilled in these individuals the principles of recreation, but most importantly the love of their fellow man. Through them, he helped build the framework of parks, recreation and volunteerism.
Rodney is survived by his wife, Mary Ella McKenzie Ryan whom he married in 1948. They recently celebrated their 70th wedding anniversary. He is also survived by his daughter, Kandice Edmonson Johnson and her husband, Dr. Steve Johnson; two grandsons Ryan Edmonson (Heather ) and Ky Edmonson (Kori); two bonus grandchildren Jessica Johnson (Nick) all of Fayetteville and Aaron Johnson of Portland, OR; 3 great grandsons Easton Edmonson, Craigin Witt and Lyle Holbus. Rodney, dad, granddad, and great granddad will live on in their hearts forever.
Fayetteville will always be near and dear to Dr. Rodney Ryan. He could give us so many reasons why it is the best place in the world to work, play, live, laugh and love. His stories of its history especially in parks and recreation will continue to be shared throughout the years. Rodney has devoted his professional life to parks, recreation and Fayetteville. In his honor the City of Fayetteville dedicated the Rodney Ryan Park in 2009. This "giant of a man" who was so humble and so generously kind to all, was able to inspire all of us to strive for the best that we can be. One former student and longtime friend said, "Whenever I saw Dr. Ryan, my heart smiled." He embraced life with super good times of Branson trips, poker/bridge gatherings, family escapades and tons of celebrations. He has had an amazing journey which we know will continue as he tells his stories in heaven. Rodney's daughter has attempted to out-do his story telling with this write up but as all students, past co-worker/volunteers, friends and family know…no one can tell a story better than Dr. Rodney Ryan. Rest in peace, good and faithful servant.
Visitation will be from 5-7 p.m. Wednesday August 28, 2019 at Moore's Chapel in Fayetteville. Funeral will be at 12 noon Thursday, August 29 at First Baptist Church Fayetteville with burial to follow in the Fayetteville National Cemetery.
In lieu of flowers memorials may be made to First Baptist Church Fayetteville, P.O. Box 1324, Fayetteville, 72702-1324, or the Dr. Rodney Ryan Outstanding Recreation Award scholarship fund, payable to "U of A Foundation" and sent "In memory of Dr. Rodney Ryan" to: U of A, Attn: Gift Services, 1002 W Maple St., Fayetteville, Ark. 72701
To sign the online guest book please visit www.mooresfuneralchapel.com.
Published August 25, 2019
OBITUARY SUBMITTED BY:
Moore Chapel
206 West Center Street, P.O. Box 1149, Fayetteville, AR
Phone: 479-442-7314