Sarah Jeanne Rhodes
Fort Smith, AR, 1932 - 2019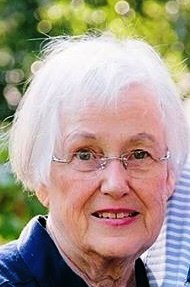 Sarah Jeanne Rhodes, 87, of Fort Smith, beloved wife of Richard Rhodes, entered eternal life on November 29, 2019 surrounded by her family.
Sarah was born in Bristow, Okla., to Nancy and Clarence Savage in 1932. She attended Ouachita Baptist University, before graduating from Oklahoma State University with a Bachelor of Science degree in 1952. She also earned a Master of Education degree from the University of Arkansas in 1972.
Sarah taught at Howe (Oklahoma) High School, Greenwood High School, and Carnall Elementary School, before retiring in 1991 after almost 30 years of service. Sarah was a master teacher whose integrity, creativity, and compassion enriched the lives her students. Sarah not only taught little children how to read: she showed them how a love of learning could change their lives. Former students often reached out to let her know how much she had meant to them and how she had set them on a better path.
Sarah was an accomplished musician and served as the pianist at Immanuel Baptist Church in Fort Smith, during the 1970s. Sarah and Richard made it a priority to give their children a house full of musical instruments, a gift that has inspired a lifetime of joy for Sam, Tim and Beth. Sarah loved her garden and spent many happy hours working in it, joined by the stray cat who adopted her.
Sarah, a truly gentle soul and humble servant of Christ, was grateful for the daily blessings of her life and wanted to share those gifts with others. She was a devoted supporter of the Children's Emergency Shelter and the Salvation Army. Sarah loved her family dearly and was beloved by her husband, children, grandchildren and great-grandchildren. Richard thought Sarah was the sweetest and loveliest woman he had ever met and, even after 66 years together, he made a point of telling her that every day.
Sarah's family thanks the doctors, nurses and technicians at St. Edwards Mercy Medical Center and Heart of Hospice, Doctors Daniel Mackey and Kurt Mehl, friend and caregiver Susan Carnett; and Sarah's daughter-in-law, Dr. Nadine Alex for their loving care.
Sarah is survived by Richard, her husband of 65 years, son Sam (wife Alice, children Stephanie Grimm, Melissa Rhodes Carter and Samuel, and grandchildren Elsa, Gemma and Leo Carter) son Tim (wife Nadine and children Kaitlin and Haley Rhodes) and daughter Beth. Sarah is reunited with infant son Kelly, brother C.B. Savage and sister Margaret Hamilton.
Visitation will be held at Edwards Funeral Home at noon on Thursday, December 5th, with the service following at 1 p.m. Pastor Kevin Thompson of Community Bible Church in Fort Smith will officiate. Pallbearers are: Stephen Carter, Doug Cooke, Craig Floro, Doug Grimm, Shannon Smedley and Aaron Windsor.
Honorary pallballers are: Kevin Bowen, Deborah Yeager Clark, Allyn Donaubauer, Kevin Bowen, and Nathaniel Kendall.
Memorial donations may be made to the Fort Smith Children's Emergency Shelter and the Salvation Army.
Online condolences may be sent to www.edwardfuneralhome.com.
Published December 1, 2019
OBITUARY SUBMITTED BY:
Edwards Funeral Home
PO box 3, Fort Smith, AR
E-mail: edwardsfh@yahoo.com
Phone: 479-782-8203