Glenn Ells Collins Gay
Springdale, AR, 1947 - 2019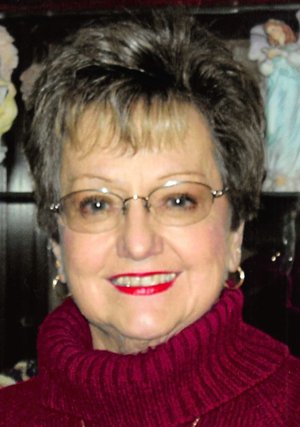 Glenn Ells Collins Gay, age 72, of Springdale, Arkansas, went to be with her Lord December 5, 2019. She was born October 23, 1947 in Newport, Arkansas the daughter of the late Howard and Elizabeth Stephens Collins. Glenn was a member of Elmdale Baptist Church where was active in Adult 6 Sunday School, Women's Ministry, Senior and Adult choirs and chairman of Senior Adult Ministry team. Glenn retired from SWEPCO/AEP in 2010 after 33 years of service. She was also involved with Epsilon Sigma Alpha International and served as President of the Southeastern Regional Council and in various offices on the State of Arkansas and the International Council. The love she had for the projects the organization did to raise money for St. Jude Children's Hospital and local philanthropic projects kept her busy. The joy she had serving the Lord and enjoying her grandchildren were what she considered the best times of her life.
She leaves behind the love of her life, husband Joe who she was married to for almost 55 years; one daughter and son-in-law Donna and Mark Harris of Asheville, North Carolina; two sons: Jeff Gay and Cassy of Elkins, Arkansas and John Gay of Fayetteville, Arkansas; one brother, Steve Collins of Jackson, Mississippi; one sister, Beth Chambers, of Springdale, Arkansas; grandchildren: Zared and Athena Gay, Rachel and Chance Harris, Kelton, Josi, Carson and Cambree; and great grandchildren" Zeva Gay, Iris Gay and Raylan Harris.
Funeral services will be Tuesday, December 10, 2019 at 10:30 a.m. at Elmdale Baptist Church, 1700 West Huntsville Street, Springdale, Ark. 72762 under the direction of Memorial Funeral Home, 3926 Willowood Avenue, Springdale, Ark. 72762 with Pastor Billy Chidister officiating. Burial will follow in Elm Springs Cemetery. Visitation will be Monday, December 9, 2019 from 3-5 p.m. at the funeral home. Memorials may be made to Elmdale Baptist Church, St. Jude Children's Research Hospital, Memphis Tennessee or Cup Ministry of Springdale Christian Church, 714 W. Huntsville Street, Springdale, Ark. 72762. Online condolences may be made to www.memorialfhspringdale.com.
Published December 8, 2019
OBITUARY SUBMITTED BY:
Springdale Memorial Funeral Home
3926 Willowood Ave., Springdale, AR
E-mail: benhen@cox.net
Phone: 479-756-8341
http://memfuneral.com/