Marlene Wheeler Lee
of Little Rock, AR, 1931 - 2019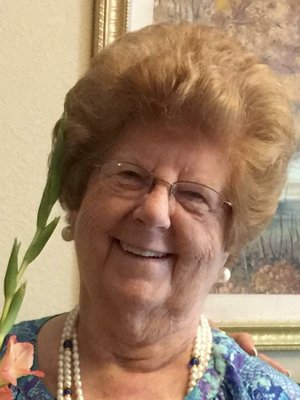 On December 6, MARLENE WHEELER LEE, loving wife, mother, grandmother and great-grandmother, stepped into eternity at the age of 88. Born on September 6, 1931 in Lake Charles, La., the sixth child of Lewis Arthur and Emma Suhling Wheeler. After completing high school at the age 16 she attended McNeese State University and graduated Phi Beta Kappa. Soon after she met Philip E. Lee, the love of her life. Together they embarked on a life of adventure in the military and later traveled the world. Marlene as his ever-faithful officer's wife, valued their Air Force community and the life-long friends they made as they moved to bases in California, Arkansas, Idaho, Mississippi, and Alaska, raising their two sons and daughter. In 1971, the Lees moved to North Little Rock where Marlene continued her supportive role as a wife, mother and grandmother.
Upon being widowed in 2008, Marlene continued to volunteer as a Sunday School teacher and served in the church bookstore where she touched many lives. She was a staunch advocate for our military, the Republican Party and her Lord. In her last years. she moved into Brookdale Chenal Assisted Living and valiantly battled dementia.
Marlene spread cheer and Christian love to all who knew her. She had an unmatched passion for life. Known for her quick wit, fiery red hair, outspoken nature, and compassionate spirit her legacy lives on in her family today.
The family is rejoicing in her Salvation, having a blessed assurance she is in heaven singing and reunited with the her loving husband of 53 years.
Marlene is preceded in death by her parents, Phil, and her five brothers and sisters. She is survived by her three children, Wayne (Paula) Lee, Jeff (Lori) Lee, and Lynda (Charles) Weir. She is also survived by her nine grandchildren whom she delighted in, Ryan (Hannah) Lee, Drs. Connor (Sara-Bethany) Weir, Taylor (Andrew) Chandler, Amanda Weir, Carter Lee, Landon Lee, Logan Lee, Carson Lee and Grayson Lee, and her five great-grandchildren, Joshua Lee, Caroline Lee, Easton Chandler, Lawson Chandler, and Hayes Chandler. Additionally, Marlene was an honorary Grandma to many Rwandan students.
The family knows that this passing is not an extinguishing of her light, but the putting down of her lamp as a new dawn arrived.
The family asks in lieu of flowers that donations be made to Acts4Rwanda, a charity she supported for many years.
A celebration of Marlene's life will be held at the Roller-Chenal Funeral Home Chapel in Little Rock on Tuesday, December 10, 2019 at 10 a.m. Burial will follow at the Arkansas State Veterans Cemetery in North Little Rock at noon. Visitation will be held 5-7 p.m., Monday, December 9, 2019 at the funeral home.
To sign the online guestbook, visit: www.rollerfuneralhomes.com/chenal.
Published December 8, 2019
OBITUARY SUBMITTED BY:
Roller-Chenal Funeral Home
13801 Chenal Parkway, Little Rock, AR
Phone: 501-224-8300
http://www.rollerfuneralhomes.com/chenal