Melba Winona Blaylock
Perryville, AR, 1921 - 2019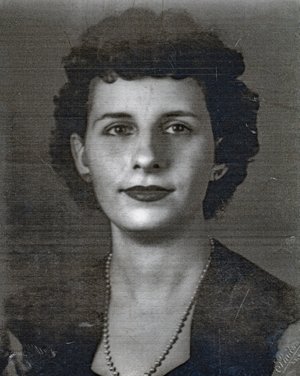 Melba was born December 11, 1921 to Wilhelmina Katherine Butschek Wright and Melvin Robert Wright in Navasota, Texas. She grew up in San Antonio and graduated from Jefferson High School. She grew up in San Antonio and while working at Duncan Field Air Force Base met and married her love of 70 years, Len Blaylock of Little Rock. This began their 20-year adventure in the military. They lived all over the U. S. and Melba became adept at traveling, parenting alone, and adapting to new environments and climates—even Alaska!
When Len "retired" in 1959 they moved to Nimrod, Ark., where they ran the store and post office, raised cattle, and gardened despite being novices. When Len found new careers in teaching and politics, Melba had to step up her game and assume her 'Barbara Stanwyck Big Valley' persona wrangling cattle and driving a tractor while raising her children.
The Blaylocks were also dedicated to promoting the two-party system in Arkansas and Melba was an active member with Len in the local and state Republican party. Later they became certified foster parents for DHS and fostered several children in this challenging yet fulfilling role. Melba's dedication to her faith and church, Nimrod Baptist, were inspiring. She served as pianist among many other duties and it was rare that the church doors were open that she wasn't there. This was true for 57 years until she was unable physically to serve in that capacity.
Her family was also the beneficiary of her tenacious character, energy, and love. She raised five children and then enjoyed helping with a succession of grandchildren and even great-grandchildren. Melba and Len's home was usually the preferred weekend and holiday destination for the family where there were big meals, music, and fun activities with farm animals and four wheelers. A typical Sunday morning at Melba's was waking to the aroma of a roast cooking, maybe blackberries and biscuits for breakfast, then church, lunch, farm chores, and visiting. Melba had few pretentions but she did love her lipstick and liked it red! As a result it was a common sight to see chubby cherubs sporting a bright lip-print on their cheeks.
After the grandchildren grew up and began having their own families, one of their pleasures when visiting was to enjoy the photo albums that Melba had put together through the years for each of her children and grandchildren. She even kept a community album with photos and event clippings for her friends and neighbors. Whenever a child received an award or achieved a milestone, Melba and Len could be counted on to celebrate enthusiastically. Another hobby of Melba's was crocheting and she made many dozens of beautiful afghans to share with friends and family through the years.
She was preceded in death by her parents, her sister Dora Rogers, and daughter-in-law Vickie Blaylock. Survivors are four sons David Robert (Suzi) of Coolidge, Ariz.; Len Everette Jr (Luanne) Maumelle; Melvin James (Mary) of London; Dale Alan of Greenbrier; Betty Louise Freeze (Mike) of Little Rock. She also leaves behind cherished nieces and nephews; 16 grandchildren; 25 great-grandchildren; and six great-great-grandchildren. Appreciation is felt for other special people in her life—niece Marilyn Kinsey (John); Janet Kelm, Wanda McElwee, Connie McNeal as well as numerous friends and neighbors.
Funeral services will be held at 2 p.m., Monday, December 9, 2019, at Nimrod Baptist Church. Family will receive friends there from 1-2 p.m., before the service. Burial will be at Nimrod Cemetery under direction of Humphrey Funeral Service.
Published December 8, 2019
OBITUARY SUBMITTED BY:
Humphrey Funeral Service Inc.
2801 W. Main St., Russellville, AR
Phone: 479-968-4411