Helen Stitt Patterson Goff
Nashville, TN, 1943 - 2019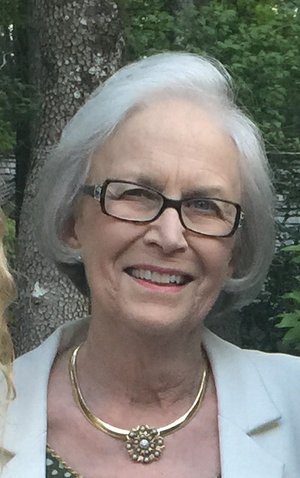 Helen Stitt Patterson Goff, formerly of Little Rock and born November 25, 1943, was a woman of both immeasurable grace and profound grit. She could trace her lineage all of the way back to not one but two of the original Mayflower passengers, including the first governor of Massachusetts, William Bradford. Her family lived in the same home for over 100 years in Hot Springs, Ark., and she carried the name, quick wit, and indomitable spirit of that family all the way to Tennessee, where she moved to be nearer to her daughters, Helen "Sissy" Stitt Goff and Kathleen McCarthy Goff Weber, in 2011.
Helen loved fiercely—whether it was her daughters, her closest friends from Arkansas to California, her many wire-haired fox terriers, or, as of the past year, her deeply loved and delighted in first grandchild, Henry Weber.
Helen will be missed and remembered by all who knew her for her elegance, her beauty, her cleverness, her loyalty, her fortitude, and how much joy she found in her family. Helen is survived by her two daughters, Helen "Sissy" Stitt Goff, Kathleen McCarthy Goff Weber, her husband, Aaron Weber, and their son, Samuel Henry Arie Weber, all of Nashville, Tenn., as well as her beloved and a little bit bad dog, Gussy. Helen was a member of the Colonial Dames and the Mayflower Society, as well as the 20th Century Club and Junior League of Little Rock, Ark. In lieu of flowers, gifts may be made to Daystar Counseling Ministries in Nashville, Tenn. A private family service will be held in Nashville.
Online Guestbook available at www.crawfordservices.com.
CRAWFORD MORTUARY & CREMATORY, 615-254-8200.
Published December 22, 2019