Helen Burris
Fayetteville, AR, 1923 - 2019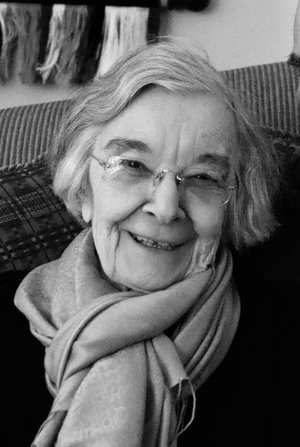 Helen Johnson Blalock Burris passed away peacefully and surrounded by her loved ones on December 21, 2019, at the age of 96. She was born in Durham, N.C., on August 31, 1923 to Isaac Rufus and Vida Mae Johnson Blalock and was joined by younger brother Jesse Leroy (J.L.) Blalock four years later. She graduated from Wiley P. Mangum High School and from Flora Macdonald College, now St. Andrew's Presbyterian College. After graduation, she worked for the Durham County Dairy Council until she met U. S. Army Captain and WWII veteran, John Colton Burris of Union, South Carolina. They married on January 13, 1951, at Mt. Bethel Methodist Church in Bahama, N.C., and shortly thereafter relocated to Danville, Va.
In Danville, she welcomed her only son, Sidney Johnson Burris and began teaching home economics at Averett College (now Averett University). She was later named Danville's first city extension agent for the Virginia Polytechnic Institute and State Extension Service, allowing her to teach nutrition throughout the community in countless demonstrations, radio programs, and local television appearances.
In 1954, Helen's father, Ike died in a sudden accident while repairing electrical lines for the county in the wake of Hurricane Hazel. Helen, often with her infant son in tow, drove to Durham every Friday evening after work where she spent the weekend tending to her widowed mother and her brother, J.L., who became a quadriplegic after a diving accident at the age of twelve. She continued to do this for 20 years, also looking after her uncle and aunt, Sidney Albert "Doc" and Lillian Byrd Johnson, of Hillsborough, N.C. After her aunt, uncle, mother, and brother passed away, Helen became the caretaker for her ailing husband until his death in 1980.
After caring for her extended family for nearly three decades, Helen tried to retire in Durham. However, never one to be at loose ends and ever the caretaker, she signed on to be a fraternity and sorority housemother first at the Chi Phi and Alpha Tau Omega fraternities and then at the Chi Omega sorority at the University of North Carolina in Chapel Hill. She found a close circle of friends in Chapel Hill, including her dear friend, Mary Sutherland. She also spent much of her spare time with her first cousin, Doris Ray Chesnutt Ralston, one of the founders of the "wine club," and her husband Bill, sons, Charlie, Andy, and Edward Ralston, and daughter, Madeline Ralston Nicholson, all of whom she loved as if they were her own.
After the birth of her grandson, Samuel Colton Burris, Helen began making plans to relocate to Fayetteville, Ark. She did so in 1998 and soon found a job as the housemother of the Pi Beta Phi sorority at the University of Arkansas. Again, Helen found a community of friends among her fellow housemothers, as well at St. Paul's Episcopal Church. She retired for the second time in 2009, at the age of 86, just before her granddaughter, Elizabeth Maxwell Burris was born.
She is survived by her son, Sidney Johnson Burris, her daughter-in-law Angie Maxwell, and her grandchildren, Samuel Colton Burris and Elizabeth Maxwell Burris. Her family wishes to express their profound gratitude for the compassionate care she received from the nurses and attendants at Brookstone Assisted Living and Circle of Life hospice, as well as the ceaseless support of her church family at St. Paul's.
Helen was described in her college yearbook as having a "sly wit" and being "as generous as a sunbeam with warm light." Those who loved her and love her still will remember her life as a master class in perseverance, empathy, and service to others. She will be deeply missed.
Funeral services will be Friday, December 27, 2019 at 5 p.m., at St. Paul's Episcopal Church at 224 N East Ave, Fayetteville, Ark., 72701, followed by a reception in the church hall. In January, her ashes will be interred next to those of her late husband at St. Matthew's Episcopal Church in Hillsborough, N.C.
In lieu of flowers, the family, per Helen's wishes, asks that donation be made to Make-A-Wish America at 1702 E. Highland Ave.; Suite 400; Phoenix, Ariz., 85016.
To place an online tribute visit www.mooresfuneralchapel.com.
Published December 23, 2019
OBITUARY SUBMITTED BY:
Moore Chapel
206 West Center Street, P.O. Box 1149, Fayetteville, AR
Phone: 479-442-7314