A.E. Andrews
Texarkana, TX, 1933 - 2019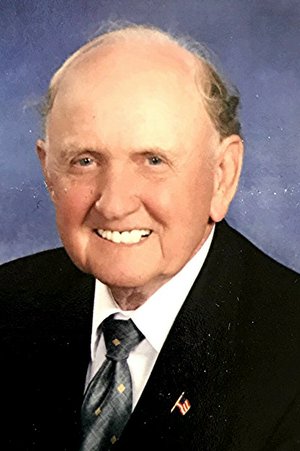 Allie Eldon "A.E." "Doc" Andrews Jr., M.D. was born January 18, 1927, Jonesboro, Arkansas and passed away peacefully on December 16, 2019 in Texarkana, Texas. A.E. Andrews was a graduate of Jonesboro High School (1945). He received his B.S. from Arkansas State University (1949) and his B.S.M. and M.D. from University of Arkansas Medical School (1949 and 1952, respectively) – after serving in the U.S. Navy during World War II.
A.E. volunteered to join the Navy Hospital Corp in 1945 three days before turning 18. After being discharged from the Navy in 1946, he enrolled in Arkansas State College (now Arkansas State University) where he earned a Bachelor of Science – Pre-Medicine. In 1948, he was admitted to University of Arkansas Medical School in Little Rock where he would earn his M.D. in 1952.
A.E. enjoyed a successful career as a doctor, specifically of radiology, in Arkansas, Tennessee, and Texas. He interned at Arkansas Baptist Hospital in Little Rock, Arkansas from 1952-1953. From 1953-1966 he worked at a family practice in Paragould, Arkansas before serving a residency through University of Tennessee in Memphis, Tennessee from 1966-1969. He was certified by the American Board of Radiology in 1970 and began a 24-year career as a radiologist in both Texarkana, Arkansas and Texarkana, Texas. His career as a practicing Doctor of Medicine included appointments as Chief of Staff and other positions of Arkansas Methodist Hospital (Paragould, Arkansas), Chief of Staff and other positions of Saint Michael Hospital (Texarkana, Arkansas/Texas), and Chief of Staff, member of the Board of Directors, and other positions at Texarkana Community Hospital (Texarkana, Texas). After 36 years in medicine, A.E. retired in 1990, receiving a letter of honor from then-Governor Bill Clinton. During his career he served as an elected officer of the Light Plant Commission (Paragould, Arkansas) and Lions Club (Texarkana, Arkansas), as well as president and officer of Greene-Clay County Medical Society, Miller-Bowie County Medical Society, and the Arkansas Medical Society. Past memberships include Texas Medical Association, American College of Radiology (Arkansas Chapter), and serving as Arkansas representative delegate of American Medical Association. He was a member of First United Methodist Church (Texarkana, Arkansas).
A.E. loved his family, friends, golf, ice cream, education, and the University of Arkansas Razorbacks. He was a driven, intelligent, and generous self-starter of a man. More than a doctor, he was a loving husband, father, grandfather and great-grandfather who wanted nothing more than to provide for and protect those he loved and impart wisdom to anyone willing to listen. He married his wife of 60 years, Johnnie Mae Scott of Marked Tree, Arkansas, in 1948 in Jonesboro, Arkansas. He woke up each day ready to provide the most comfortable and (within reason) cosmopolitan life for her. They raised four children together, primarily while living on Rio Grande Avenue in Texarkana, Texas, which they called home for just under 50 years. Perhaps most of all, he cherished his five grandchildren, their spouses, and four great-grandchildren. Known lovingly to them (and perhaps to most family friends) as "Doc", he provided for and guided them in every way possible. He constantly encouraged them to pursue their best life, to make the most of their God-given gifts, to never stop learning, and to accumulate as much knowledge as possible. He never missed an opportunity to pass along bits of wisdom, advice, and his own brand of education (primarily financial) – no matter how dubious the source or subject matter. These lessons extended to anyone within earshot – willing audience or not. He was an avid golfer (a passion passed along to most of his grandchildren) and recorded three hole-in-ones – including two at Texarkana Country Club, his home golf course for most of his life. Perhaps the most fitting ways to remember him, his signature phrases were "Way to go!" and "See you some day."
A.E. is preceded in death by his father Allie Eldon Andrews Sr., mother Lillian Kerouac Andrews, his wife Johnnie Mae Scott Andrews, brother Lowell Thomas Andrews, brother Stanley B. Andrews, sister Eleanor "Jackie" Andrews Katz, and daughter Helen Lee Andrews. He is survived by his children Susie Williams and husband Don, Jenny Cope and husband Brad, and David Andrews and wife Jane; grandchildren Andrews Welborn Cope and wife Danielle, Ben Williams and wife Ann Carolyn, Scarlet Andrews, Emily Cope, and Olivia Cope; as well as four great-grandchildren.
Memorial Service will be held December 26 at 4 p.m. at Cornerstone Retirement Center. A reception will follow. Donations may be made to: Hospice of Texarkana or Cornerstone Healthy Living Community, Texarkana, Texas. Arrangements are under the care of Texarkana Funeral Home, Texas.
Published December 24, 2019
OBITUARY SUBMITTED BY:
Texarkana Funeral Home
4801 Loop 245, Texarkana, AR
Phone: 870-774-1200
http://www.texarkanafuneralhome.com