Gerald Wayne Norwood
of Little Rock, AR, 1942 - 2019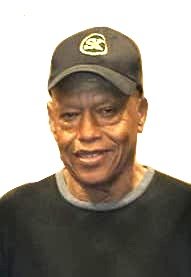 Gerald Wayne Norwood. God set Gerald Wayne's plumb line June 28, 1942. He was God's summer gift to Isaiah and Freddye (Tinsley) Norwood - a son whose life would many times defy the odds and serve as a testament to God's gracious goodness.
Gerald was a graduate of Horace Mann High School and obtained additional training in vocational schools including architectural design in Michigan. He would later follow in his father's footsteps by becoming a Master Brick Mason as well as a skilled carpenter and all around craftsman. Like his parents, he was a builder, an intelligent visionary, hard-working and generous hearted. Gerald marched to the tune of his own uniquely creative drumbeat. He accepted Christ at an early age but was not bound to organized religion. He could be comfortable in his solitude and just as much at ease amidst friends, acquaintances playing a competitive game of dominoes and Bid Whist (of which he had noteworthy skill in both). Gerald could live grand or modest and be okay in either circumstance. In essence, he liked peace and calm. When all is said and done, most folks will simply say he had a "way" and smile about him that led them to call him "friend" – that he made a difference in their lives.
Gerald Wayne laid down his trowel on Wednesday, December 18, 2019. The work assigned to him was done. The good of his legacy is left for those who love him to honor and carry forward.
He is preceded in death by his parents Isaiah and Freddye Norwood and two brothers, Jesse Charles Sanders and Kenneth Allen Norwood. He leaves to cherish his memories his children: Ruben Nims, Byron Norwood, Terralyn Gaines (Lawrence), Shelvin Smith, Edward Holloway (Jilletta), Cody Deadmon, Capresha Morris (Michael), Tricie Clay, Kenya Jones (Tony), Gerald Norwood Jr., Antonio Norwood, Jay Norwood, Katrina Phillips; 34 grandchildren; 14 great-grands; sisters, Freddie Smith, Belver Nelson, Rose Bickerstaff, Brenda Henson, Sandra Love, Regina Norwood and Natalie Willis (Andrew); brothers, Wade Norwood (Shirley), and Nathaniel Norwood; and a host of nieces, nephews, cousins and friends.
Published December 24, 2019
OBITUARY SUBMITTED BY:
Premier Funeral Home
1518 S. Battery St, Little Rock, AR
Phone: 501-376-4800