Brooks Scott Lindsey
Bella Vista, AR, 2018 - 2019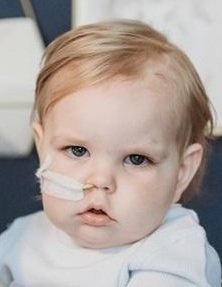 Brooks Scott Lindsey, 21 months, passed away on December 19, 2019, at Children's Mercy Hospital in Kansas City, Missouri. He was born March 15, 2018 in Rogers, Arkansas to Jubal Lee Lindsey and Ambrosia Hostetler Lindsey.
Brave Brooks life, although short, was immensely full. He was an old soul with a strong love for worship music, his stuffed monkey Douglas, and animals of all kinds. Brooks favorite place to frequent was Onyx Coffee shop, where his "usual" was their signature Onyx Delight with oat milk, decaf of course. Asking him if he needed coffee quickly brought a smile to his face. Brooks also loved his teachers and class at Casa Castillo and being outside at every opportunity.
He was preceded in death by his great uncle, Scott Hostetler; grandmother, Sherlyn Lindsey and great-grandmother, Luanne Lindsey. Brooks is survived by his parents, Jubal and Ambrosia Lindsey of Bella Vista, Arkansas; maternal grandparents, Boone and Sabrina Wilford of Ozark, Missouri; maternal grandparents, Lynn and Lisa Hostetler of Bentonville, Arkansas; maternal great-grandparents, Dewey and Bernie Hostetler of Newton, Kansas; maternal great-grandparents, Jerry and Bette Andrews of Plano, Texas; maternal great-grandparents, Harold and Helen McKinney of Fayetteville, Arkansas; and paternal great-grandparent, Richard Lindsey of Rogers, Arkansas; Godfather, Leno Robinson, as well as countless aunts, uncles, cousins and friends.
Brave Brooks celebration of life will be at Bentonville Community Church, at 10 a.m. on Saturday December 28, 2019 with a visitation prior to the service, at 9 a.m. Pastor Brad Hampton will be officiating. Burial will follow at Pinnacle Memorial Gardens in Rogers.
Memorials may be made in memory of Brooks Lindsey to Children's Mercy Hospital Music Therapy Program in Kansas City, Mo. or Pink Heals NWA. Arrangements have been entrusted to Stockdale-Moody Funeral Services of Rogers. Stockdale-Moodyfs.com.
Published December 25, 2019
OBITUARY SUBMITTED BY:
Nelson-Berna Funeral Home & Crematory, Rogers
2898 West Walnut, Rogers, AR
Phone: 479-631-1353
https://www.bernafuneralhomes.com/locations/nelson-berna-of-rogers