Lula Mae Phillips
Sidney, AR, 1936 - 2019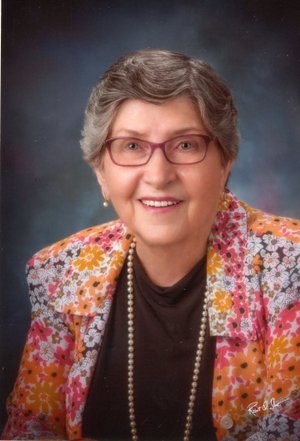 Lula Mae (Kincaid) Phillips, 83, of Sidney died December 20, 2019. She was born on August 31, 1936 in Black Oak, Arkansas to Mance T. and Rosie (Caldwell) Kincaid.
Lula was a faithful member of Sidney Baptist Church and served on the Sharp County Library Board. Lula taught school at Evening Shade for many years. She loved her students and was thrilled when they would stop and visit with her in town. After she retired, her passion for missions became her focus and a highlight of her life was when she went to Peru to deliver Samaritan's purse shoeboxes. She loved her family and her Sidney Baptist Church family. She is celebrating joining loved ones in Heaven, especially her husband, and welcoming us in the future.
She is survived by one son, Paul Phillips (Dana) of King George, Virginia; one daughter, Luann Phillips of E. Amherst, New York; one niece, Rebecca Kauke and one nephew, Timmy Kauke of Sidney; six grandchildren, and six great-grandchildren. Lula is preceded in death by her parents; her husband, Donald Phillips; one brother, "Pudge"; two sisters, Norma and Ann, and her niece, Tammy Mayfield.
Pallbearers are Lynn Little, Chris Phillips, Bradley Phillips, Bill Phillips, Peyton Westmoreland, and Ed Phillips. Honorary pallbearers are Arch and Linda Kay Westmoreland, Bob and Mia Miller, Joe and Pat Stidman, and Brenda Breckenridge.
Funeral services will be held at 1pm at Sidney Baptist Church on Friday, December 27, 2019 with Shannon Smith officiating. Burial will follow at Mt. Carmel Cemetery. Visitations will be from 5-7 p.m. Thursday at the Roller-Crouch McGee Funeral Home in Cave City.
In lieu of flowers, memorials may be made to Sidney Baptist Church c/o Lottie Moon Christmas Offering 9 Branch St., Sidney, Arkansas 72577.
Published December 25, 2019
OBITUARY SUBMITTED BY:
Roller-Crouch Funeral Home
510 College Park, P.O. Box 2576, Batesville, AR
Phone: 870-793-4161
http://www.rollerfuneralhomes.com/