Betty Lou Scruggs
Rogers, AR, 1929 - 2019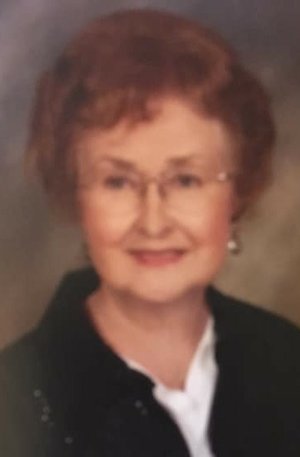 Betty Lou Scruggs, of Rogers, passed away on December 24, 2019. She was born on July 26, 1929 in Gaither, Ark. to the late Russell Offenbacker and Jewel Vandover, below Cone Point, the homestead of her great-grandparents.
Betty was a Harrison High School Goblins cheerleader and was first runner up in the Miss Harrison Pageant. She was a secretary at Arkansas Power & Light in the 1950s after having been a phone operator in Harrison, Ark. as one of her first jobs. She was a successful executive secretary at Daisy in the late 1960s (where she was one of the fastest typists around) before starting her career as a homemaker.
Betty and Doil loved to travel, explore and hike on their vacations, frequenting places in the west such as the Grand Canyon, Jackson Hole, Devil's Tower and the Redwood Forest. Anyone hiking with her had a difficult time keeping up, so great was her energy and sense of adventure. She loved her family and friends and loved to laugh.
She was a great cook and was known for her pot roast, renowned Betty's Spaghetti, pound cake with fresh Georgia peaches and German chocolate cake (one side with no nuts).
Her greatest legacy was her love of Jesus and raising her children in the church.
She loved people well as can be seen in her cheerful sacrificial service of her grandmother (Stella Edgmon), parents, and two elderly family friends as they aged.
She is survived by her son Ret Miles, daughter Terri Howington (Tim), stepson Tommy Scruggs (Vicki), stepdaughter Pam Hill (Paul), and grandchildren Joshua Howington, Tammy Todd and Kaleb Hill. Great grandchildren Ashton Todd and Chase Salley. Great-great grandchildren Pyper Salley and Atticus Salley.
She was preceded in death by her loving husband of 45 years - Doil Scruggs.
Visitation will be from 5-7 p.m. on Thursday, December 26 at Rollins Funeral Home in Rogers. A graveside service will be held at 2 p.m. on Friday, December 27 at Benton County Memorial Park, where she'll be laid to rest between her husband Doil and her mother Jewell.
Donations in Betty's name may be made to Circle of Life Hospice at nwacircleoflife.com/donatesupport.
Published December 26, 2019
OBITUARY SUBMITTED BY:
Rollins Funeral Home
1401 W. Hudson Rd, Rogers, AR
Phone: 479-631-6617