David Francis Fleming
of Little Rock, AR, 1919 - 2019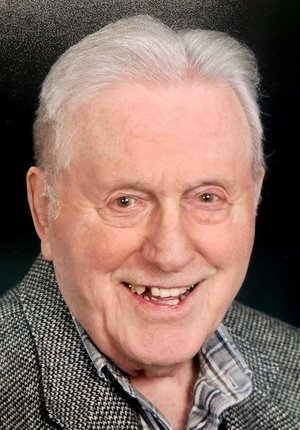 DAVID FRANCIS FLEMING, 100, went to be with the Lord on December 21, 2019. He was born November 6, 1919 in Little Rock, the youngest of four sons of Walter and Fannie Fleming. He was predeceased by his parents, his brothers (Jack, Bob & Roy), a baby sister and a granddaughter, Hannah Fleming.
He was married to Carmeletta (Pat) Fleming for over 70 years who predeceased him in 2012. He is survived by his children, Diane (Jim) Blankenship of Pittsburg, Texas and Paul (Ginger) Fleming of Little Rock; five grandchildren, Linda (Mike) Scott, Jamie (Greg) Huebner, Grant Fleming, Davis Fleming and Ashley (Peyton) Troillett; three great-grandchildren, Lindsey (Jake) Angell, Casey (Jon) Fausett and Josh (Christie) Heubner; five great-great-grandchildren, Madison and Gavin Angell and Hunter, Logan, and Mason Heubner.
David grew up in Little Rock, went to Little Rock Central High School where he played in the band. He and Pat were newlyweds of several weeks when Pearl Harbor was attacked in 1941. He subsequently enlisted and served his country in the U.S. Navy as part of the Seabees Construction Unit. He served in the Philippines until the war ended in 1945. Upon returning from the Pacific, he resumed working at Little Rock Abstract Company where he was employed for over 50 years. He started work there as a delivery boy and ended up as President when he retired. Although not an attorney, he was well known among local businessmen as an expert on real estate abstracts and titles.
David was well known locally for his ability to play the saxophone and clarinet. He played for the Tommy Scott Orchestra in Little Rock during the big band era, Lakewood Community Band and various other ensembles. While in boot camp with the Navy, he auditioned and was selected for the band which represented his unit stateside.
David and Pat Fleming were faithful members of the Little Rock Bible Church during their lifetimes. He served in a variety of lay functions such as elder, trustee and Sunday school teacher. His love for his Lord and Savior, Jesus Christ, was genuine and a source of hope and light in his life. He was a quiet man whose honest life was an example that spoke volumes to those around him about the convictions of his heart.
David lived independently at Shepherd's Cove in Little Rock until just recently and made many friends there. He loved playing his instruments (saxophone and/or clarinet) together with other residents to entertain those who lived at The Cove. His health started to decline earlier this year and he had recently moved into Brookdale Chenal Heights Assisted Living. We would like to thank the staff at Shepherd's Cove, The Roberts Building and Brookdale for their friendship and kindness over the years. We would also like to thank Hospice Home Care for their care in the last few weeks.
Visitation will be at 1 p.m., Saturday, December 28, at Pinecrest Funeral Home & Cemetery, 7401 AR-5, Alexander, Ark. 72002 with funeral service immediately following at 2 pm. Family only internment at 3 p.m. In lieu of flowers, memorials can be made to the Bible Church of Little Rock Undesignated Missionary Fund. To sign David's online guestbook, click "Add A Memory" at: www.griffinleggetthealeyroth.com.
Published December 26, 2019
OBITUARY SUBMITTED BY:
Griffin Leggett Healey & Roth
5800 West 12th Street, Little Rock, AR
Phone: 501-661-9111