Ruth Helen Cole-Johnson
Houston, TX, 1929 - 2019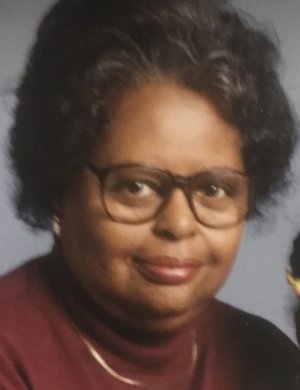 Ruth (Madge changed to Helen) Cole-Johnson, 90, was granted her angel wings on December 16, 2019, in Houston, Texas. She was born in Little Rock, Ark., on June 23, 1929, to the late Oscar and Felicia Cole. She attended Bush Elementary School and graduated from Dunbar High School She graduated from the University of Central Arkansas with a Bachelor of Science degree in nursing. She was the first Black RN with a certificate in psychiatric nursing in the state of Arkansas. She was a member of the Black Nurses Association. She was a faithful member of Ward Chapel A.M.E. Church. She was a member of the Stewardess Board and the Women's Missionary Society. She coordinated the annual health fair. She married Edward D. Taylor. To this union her only child was born. She later married Clarence Johnson and this union lasted 38 years.
She was preceded in death by her twin, Arutha Willis; sisters, Myrtle McGill, Fern Banks, and Virgie King; brother Oscar Cole, Jr.; numerous nieces and nephews. She leaves to cherish her memory, son, Michael (Sheryl) Taylor; grandson, Michael K. Taylor (Angelina); granddaughter, Myra Taylor; great-grandchildren, Sky and Alita; sister, Francine Cole; nieces, Walterine Gray, Emily Banks, Marcia Banks, Rebecca Gregory, Phyllis Sanders, Delores McGill, Sharolyn Winfrey, Nelma Merritt, Edith Moore, Peggy Widener, Michelle Villadores; nephews, Wallace Banks, Sr., Marc Banks, Oscar Cole III, Charles King Sr., Larry King, Frank King III, David Cole, and Albert Willis.
She may be viewed Friday, December 27, 2019, from 2-4 p.m., Ruffin & Jarrett Funeral Home, 1200 Chester St., Little Rock. (501) 372-1305. Funeral services will be held Saturday, December 28, 2019, 1 p.m., Ward Chapel A.M.E. Church, 1301 Hanger Street, Little Rock, 72202. Interment follows at Haven of Rest Cemetery. Condolences may be sent to Ruffin & Jarrett Funeral Home.
Published December 26, 2019
OBITUARY SUBMITTED BY:
Ruffin & Jarrett
1200 Chester Street, Little Rock, AR
E-mail: mmulford@arkansasonline.com
Phone: 501-372-1305