Cathryn Ann Demoss
Rogers, AR, 1942 - 2019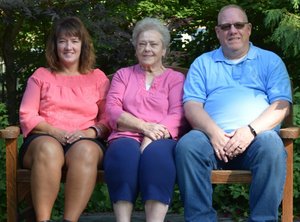 Cathryn (Cathy) Brandon DeMoss, 77, of Rogers, Ark., passed away, December 26, 2019, surrounded by her loving family at Circle of Life Hospice in Bentonville, Arkansas.
She was born to the late Johnny and Elsie McGinnis, Nov. 8, 1942, in Springdale, Ark.
Cathy married the late Emerald Brandon in 1964, and was married for 18 years. She is survived by her two children: Rickey Brandon and his wife, Kimberly, of Lowell, Ark.; and Debby Wilson and her husband, Larry, also of Lowell, Ark. She is also survived by her four grandchildren: Logan Wilson and his wife, Catey, of Bentonville, Ark.; Linleigh Lockhart and her husband, Nick, of Lonoke, Ark.; Mark Bryant and his wife, Shuntu, of Pea Ridge, Ark.; and Jessica Brandon of Lowell, Ark. She also had two great-grandchildren Hayden and Alyson Brandon of Lowell, Ark. She was immensely proud of her children, grandchildren, and great-grandchildren.
Cathy enjoyed playing bingo, as well as pulling the handle on the old one-armed bandit, and loved her dog, Beasley. Before her health declined, she and her best friend traveled from Arkansas to New Jersey, playing slot machines along the way.
She is also survived by two sisters, Mary and Reta. She was preceded in death by her brother James and sister, Shirley. Cathy is also survived by several nieces and nephews.
A visitation will be held on Saturday, December 28, 2019 from 10 a.m. until 12 p.m. at the Backstrom-Pyeatte Funeral Home. Funeral services will follow the visitation on Saturday at 1 p.m. at Backstrom-Pyeatte Funeral Home at 2230 N. Thompson, Springdale, Ark. To sign online guestbook please go to www.backstrom-pyeatte.com.
Published December 28, 2019
OBITUARY SUBMITTED BY:
Backstrom-Pyeatte Funeral Home
2230 North Thompson Street, P.O. Box 6294, Springdale, AR
Phone: 479-756-2010