Mary J. Knopf
of Little Rock, AR, 1927 - 2019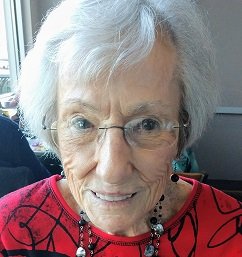 MARY J. KNOPF, Wife, Mom, Grandma, Aunt Mary, dear friend, tennis nut, bridge player, and exceptional woman, passed away December 26, 2019.
All who knew Mary are honored to have known her. She was such a strong presence as matriarch of our extended family that losing her is difficult to grasp but the indelible mark she left for all of us who knew her will always be in our hearts. She was always there for her family, without hesitation, in good times and bad, to help us through some very tough times. She was the rock and the source of undying love and spirit.
When we think of Mary, what comes to mind is to the end, she was young at heart, open minded, wise, resilient, animal lover, had a wicked sense of humor, and exuded boundless love for those of us lucky to be close to her. She could party with the best of us and we had the pleasure of celebrating family reunions and many of her April Birthdays, including her 92nd this year, with lots of wine and laughter. Mary loved her wine…both boxed and fine.
Mary was so proud of her family: brothers, sons, daughter, grandchildren, nieces, nephews, and her dear friends. It was always touching to hear her make sure we all knew that, and we loved her back with all our hearts.
Mary grew up in El Dorado and Little Rock, Ark., and at age 16, took the train to Denton, Texas to attend Texas Women's University on a music scholarship, and later the University of Michigan where she graduated with a degree in music with an emphasis in Pipe Organ. She was the organist and choir director at the Westover Hills Presbyterian Church where for many years she gave her heart, time and treasure. The power of her music was always so uplifting for the congregation and she particularly shined in the Christmas season, both at church and at home. For so many years, Christmas was not complete until she delighted us with a beautiful piano version of Silent Night. No Christmas is complete for us without that beautiful memory.
In her mid-40's Mary was suddenly a single parent with four children. Her tenacity and boundless love for her children was never more illuminated when she rescued the family home building business, became a full time bookkeeper at the Westside Tennis Club, started a catering business on the weekends, and continued to play the organ at church every Sunday. In addition, she volunteered at night to take calls at Contact, a non-profit crisis hotline for people contemplating suicide.
Mary had so many talents. She was an incredible athlete, a great swimmer and a beautiful slalom water skier, competitive and strong. Tennis was a passion and she excelled. It was through tennis that she finally met the love of her life, Herb. They married in March 1981 and enjoyed many years of playing team tennis together, traveling to regionals and nationals, and winning championships. She and Herb loved to travel and were grateful for the adventures they shared seeing the world together. Hawaii was a special place for them. They savored several years of winter months together in paradise. In their travels, they collected art (native Indian and Hawaiian) and enjoyed displaying it all over their home, and she was surrounded by it to the end.
A great seamstress, Mary kept a studio at home for her quilting and gifting. All of us treasure her many personal gifts from handmade Christmas stockings to quilts to baby gifts to advent calendars. You name it, she could make it.
After giving up Bridge for over 50 years, she took the game back up which reawakened her competitive spirit. She studied the game and was quite passionate and played often. Mary was fiercely independent (and famously stubborn) and loved the home she built with Herb in Leawood and lived in for over 25 years. Four years ago she suddenly decided it was time to move to independent living at Woodland Heights, which began another meaningful chapter in her life with friends new and old. The relationships and fellowship she enjoyed through Bridge and her dear friends at Woodland Heights sustained her spirit.
Mary's greatest sorrow was losing her one and only daughter, Mary Temple, to breast cancer in 2003. In the circle of life, this loss also ended up bringing her joy in that she saw Larry, her oldest son, meet the love of his life, Desiree, when Mary Temple was in hospice. In addition, Mary had an extremely special relationship with her granddaughter, Anna, Mary Temple's daughter. Their love and admiration for each other knew no bounds. Not many get to experience a relationship and bond of this depth.
Mary was predeceased by her brothers, Matt and Tom Jones, her husband, Herbert Knopf and her daughter, Mary Temple Witherspoon Giuffria. She is survived by her sons, Larry Witherspoon (wife, Desiree) of Little Rock, Brooks Witherspoon (wife, Cara) of Alma, and Rick Witherspoon (wife, Diana) of Boulder, Colo.; her Granddaughters, Jennifer Ratliff, Shari Witherspoon, Breanne Witherspoon, Chevis Collins, and Anna Giuffria; her Grandson, Nicholas Witherspoon; and nieces and nephews and their spouses that were so dear to her heart.
In lieu of flowers, donations in her memory can be made to Arkansas Hospice and the Susan G. Komen Breast Cancer Fund. At Mary's request, no memorial service will be held but a graveside service will be held at a future date.
Arrangements by Little Rock Funeral Home, (501)224-2200. You may access Mary's obituary and leave messages and photos online at www.littlerockfuneralhome.com.
Published December 29, 2019
OBITUARY SUBMITTED BY:
Little Rock Funeral Home
8801 Knoedl Ct., Little Rock, AR
Phone: 501-224-2200