Vickee L. Fleming
Bella Vista, AR, 1945 - 2019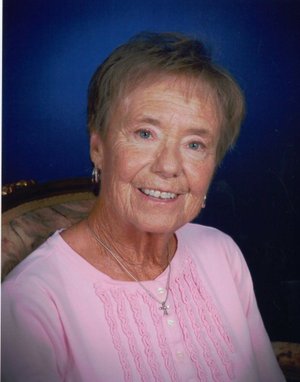 Vickee L. Fleming, 74, of Bella Vista, Ark., died Tuesday, December 24, 2019, at Circle of Life Hospice in Bentonville. Vickee was born March 12, 1945 in Fort Collins, Colo., to Donald and Margery Edmonds.
Vickee married Bruce Fleming May 29,1968 in Honolulu, Hawaii.
She worked for Frontier Airlines in Denver Colo. She was employed in the travel reservation business for 30 years. During this time, she traveled to Africa, Spain, and South America.
Vickee was a member of FUMC of Bella Vista, were she was devoted to Jesus Christ and his teaching of Love to all. She was a member of Shepard's Group 1 and loved doing mission work as an AUTO ANGEL.
Vickee was a docent for the Bella Vista Historical Society. Her love of children and horses drove her to do volunteer work as an instructor for Horses for Healing. Vickee was a member of the Bella Vista 9 hole golf group and enjoyed the struggle to make par.
Vickee was preceded in death by her dad Donald Edmonds and her son Richard Fleming.
Survivors include her husband of 51 years Bruce Fleming, son Jason Fleming, son Robert Fleming and his wife Angela their son Elway and daughter Layla. Grandchildren Mclain Fleming and Cassie Fleming; daughter-in-law Tiffany Jones; brothers Jerry Edmonds, wife Sharman, Tom Edmonds, wife Brenda, and Dave Edmonds, wife Vickie; and mother, Margery Edmonds.
We would like to say thanks to all her doctors and caregivers for their gallant effort to save her life, Circle of Life for their tender care, the ministers at FUMC, Rev. Jeanne Williams and Rev. Brenda Wideman for their prayers, to all her many friends that offered prayers.
What can be remembered best is her love of God, children and animals. She would like all to be mindful that we all need love.
A memorial service will be held at a later date at the First United Methodist Church of Bella Vista.
Please no flowers. Memorials can be made to Bella Vista Historical Society, Bella Vista Animal Shelter or FUMC Bella Vista.
Arrangements are by Bella Vista Funeral Home & Crematory. Condolences may be expressed at www.funeralmation.com.
Published December 29, 2019
OBITUARY SUBMITTED BY:
Bella Vista Funeral Home and Crematory
2258 Forest Hills Blvd, Bella Vista, AR
E-mail: office@funeralmation.com
Phone: 479-855-1611