Ann Elizabeth Carroll
Pocahontas, AR, 1922 - 2019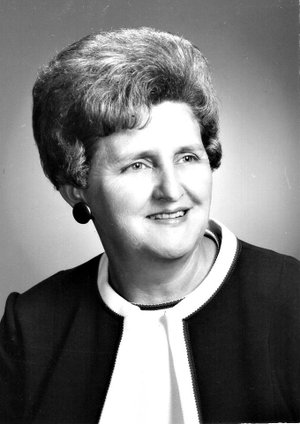 Ann Elizabeth Carroll, a former editor of the Pocahontas Star Herald died Monday, December 30. Born in Pocahontas August 29, 1922, she was a daughter of Warren L. and Thelma Martin Blankenship. She was 97 years of age.
The Pocahontas Star Herald was established in 1902 by Mrs. Carroll's grandfather, L.F. Blankenship. She and her husband William D. Carroll purchased the newspaper in 1963 from her family, at which time she became editor and manager. She went into semi-retirement in 1988, but continued for several years to write, Here and There, a personal column established by her father W.L. Blankenship, in 1930. She wrote under the pen name, Ann Blankenship Carroll (A.B.C.) In 1993, Mrs. Carroll was presented with the Golden Fifty Award, a newspaper service recognition by the Arkansas Press Association.
Mrs. Carroll was an alderperson on the Pocahontas City Council for 12 years (1990-2002), during which time she was a member of the city's Fire Department Committee, the 911 Committee and the city's Budget Committee. She was a charter member of Black River Technical College Foundation and served as vice-chairman of the Randolph County Democratic Central Committee for 30 years. Appointments of Mrs. Carroll by Governors David Pryor and Bill Clinton were to the Arkansas Commemorative Commission, the Office of Rural Advocacy, Arkansas Rural Development Commission and the Dr. Martin Luther King Commission.
She was a Certified lay minister in the United Methodist Church, had been a member of the Committee on Religion and Race of the N. Arkansas Conference of the U.M. Church, a member of the Administrative Board of Pocahontas First United Methodist Church, past chairman of the Board of Trustees of the church, was lay leader of the church to the North Arkansas Annual Conference, and had held other District and Conference offices in the church.
She is survived by three children, Miss Carol Ann Carroll, William N. Carroll and Dr. Patrick W. Carroll all of Pocahontas and two sisters, Martha Murph of Tyler, Texas and Mary Williams of Pocahontas.
Graveside service will be at 10 a.m. on Thursday, January 2, 2020 at Masonic Cemetery with Rev Pat Bodenhamer officiating. Arrangements through McNabb Funeral Home.
Published December 31, 2019