Lois E. Malone
Rogers, AR, 1931 - 2019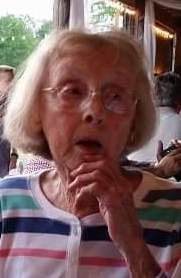 Lois E. Malone, 88, died peacefully at her home on December 26, 2019. She was born on July 2, 1931 in Monte Ne, Arkansas to the late Daniel and Rexie (Gilbert) Evans. She worked at the UAMS residency program in Fayetteville for over 27 years as an LPN until she retired at the age of 82.
She attended Temple Baptist Church, Retired Nursing Meetings, Wellness Center, and RHS Beans and Cornbread Meetings. She spent her time caring for her family and writing letters.
Lois was preceded in death by her parents Daniel and Rexie Evans; husband Seth Malone; seven siblings; and grandson, Kurt Lassiter. She is survived by her son, Kim (Mona) Malone of Plant City, Florida; daughters, Debra (Sam) Pelletier of Rogers, Donna (Don) Sinquefield of Haleyville, Alabama; grandchildren; Shane and Kathy Lassiter of Texas, Jason and Stephanie Lassiter of Texas, Scott Pelletier of Arkansas, Justin and Vicky of Arkansas, Justin Machell and Bria of Florida, Clint Malone of South Carolina; great-grandchildren, Amanda, Kyle , Dylan, Grace, Jonah, Gloria, Katie, Seth, Colton, Kadley, Keegan, Kolby and Bristol; and great-great-grandchildren, Timothy, Madeline, Jaxson and Oliver.
Arrangements are under the care of Rollins Funeral Home, www.rollinsfuneral.com.
Published December 31, 2019
OBITUARY SUBMITTED BY:
Rollins Funeral Home
1401 W. Hudson Rd, Rogers, AR
Phone: 479-631-6617