Edith Lorene Oliger
Formosa, AR, 1925 - 2019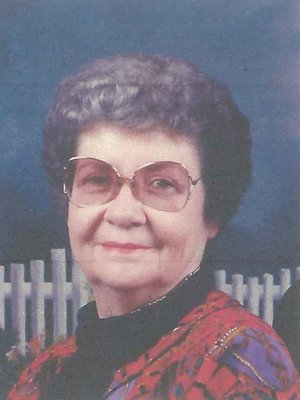 Edith Lorene Oliger, age 93, of Formosa, passed away Sunday, February 10, 2019 at her home. She was born September 3, 1925 in Conway County. She was preceded in death by her husband of 73 years, Erwin Oliger; parents Newton Prince and Della Stobaugh Prince; brothers, Cleo, J.W., Laudis and Willie Prince.
Survivors include her son, Darrell (Carol) Oliger; a daughter, Kaye (Orbin) Allen, both of Center Ridge; three grandsons, Morris (Mandy) Allen, Kevin (Ellen) Allen and Jeremy McMahan; one granddaughter, Kimberly (Clay) Blake; eight great-grandchildren, along with nieces and nephews.
Lorene was a homemaker and a member of Formosa Church of Christ along with her husband, Erwin, who served as an elder for 50 years. She was a loving wife, mother and grandmother who was very devoted to God and her family. Lorene and Erwin opened their home for many preachers and other for whom she cooked many meals. She enjoyed preparing meals and spending time with her family and friends.
The family would like to thank Conway Hospice Home Care and especially the loving care of Starla Mackey and Lucy Malik they so excellently provided for Lorene.
Visitation will be Wednesday, February 13, 2019 at 10 a.m. at the Formosa Church of Christ followed by funeral service at 11 a.m. with Ted Knight and Adam Eppes officiating. Burial will be at Center Ridge Cemetery. Serving as pallbearers are Morris Allen, Kevin Allen, Jeremy McMahan, Clay Blake, Wayde Prince and Lynn Prince. Honorary pallbearers are Wayne Flowers, Louie Prince, Robert Prince, Richard Prince, Jerry Sterling, Miles Faulkner, Mason Faulkner, Perry Faulkner and Tracy Prince.
In lieu of flowers, please make donations to the Southern Christian Home in Morrilton. Arrangements by Harris Funeral Home of Morrilton. Online Guestbook: www.harrisfuneralhomes.net.
Published February 12, 2019
OBITUARY SUBMITTED BY:
Harris Funeral Home, Inc.
118 South Moose Street, P.O. Box 439, Morrilton, AR
Phone: 501-354-4575
http://www.harrisfuneralhomes.net/