Jessie Clarice Hightower
Newburgh, IN, 1928 - 2019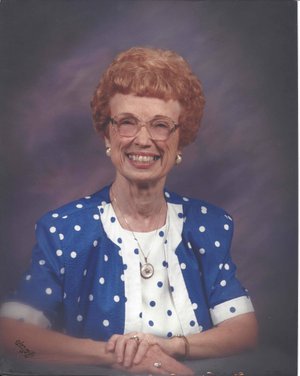 Jessie Clarice Hightower, 90, passed away peacefully at home in Newburgh, Indiana on Saturday, January 5, 2019. Clarice recently moved to Indiana to be closer to her daughter. Born in 1928, in Hope, Arkansas, she was the only child of Jesse Andrew and Clara Urrey Brown. Clarice graduated valedictorian from Hope High School in 1946. Then she attended Ouachita Baptist University, where she was a varsity cheerleader and a member of the EEE Women's Social Club, earning a Bachelor of Arts degree in English. After graduation, Clarice returned to her alma mater, Hope High School, to teach English, Speech, and Drama, beginning a remarkable and distinguished 30 year career in education. Clarice taught English, Speech, and Drama at Mills High School for many years until her retirement in 1988. She was a loving, dedicated teacher who demonstrated her Christian faith every day in the classroom. She cared for each student as if they belonged to her. It was during her time at OBU that "Jessie Clarice" (as she was known back then) met the love of her life and future devoted husband, the late Reverend William Harold Hightower, a 22 year-old freshmen just returning from World War II. They were married in 1951. Clarice shined in her role as the preacher's wife, beginning on the mission field in rural Texas and ending with a 30 year ministry with "Brother Harold" at Tyler Street Baptist Church in Little Rock. In 1988, she was honored to be selected Arkansas Mother of the Year. Clarice's devotion to God, her family, her church, and her friends is a legacy which will endure for all who knew and loved her. She will be remembered for her fiery red hair, and touching countless lives through a welcoming smile, ears always willing to listen, hands forever ready to help, and a heart of gold, perpetually spreading love and compassion to friends and strangers alike.
She is preceded in death by her husband, Harold and her son-in-law, Michael L. Willis. She is survived by two children: Dr. Clarissa (Chrissy) Willis and William Andrew (Bill) Hightower, and his wife, Dr. Susan Hightower Three grandchildren: Kimberly Michelle Davis and her husband Brandon; Virginia Marie (Ginny) Hightower, and William Jacob (Jake) Hightower, and his wife CC: and three great-grandchildren: Jessa Ann Davis, Josie Klaire Davis, and Lilly Claire Hightower.
A memorial service will be held Saturday, January 12th, at 11 a.m. at Roller-Chenal Funeral Home 13801 Chenal Parkway in Little Rock with a reception immediately following. In lieu of flowers, donations may be made to the Tyler Street Baptist Church Hickman-Hightower Endowed Scholarship, OBU Box 3754, Arkadelphia, Ark. 71998. Arrangements by Roller-Chenal Funeral Home: www.rollerfuneralhomes.com/chenal.
Published January 10, 2019
OBITUARY SUBMITTED BY:
Roller-Chenal Funeral Home
13801 Chenal Parkway, Little Rock, AR
Phone: 501-224-8300
http://www.rollerfuneralhomes.com/chenal