Noel Eudene Brown
Richardson, TX, 1928 - 2019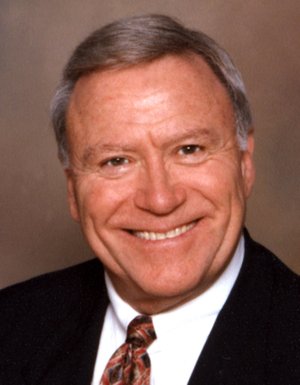 Noel E."Dean" Brown passed peacefully on Jan. 6, 2019, surrounded by his loving family. Dean epitomized a life well lived. He was a businessman, loving husband and father, public speaker, entertainer, Freemason, certified master gardener and Sunday school teacher.
Dean was born Sept. 27, 1928, in Salem, Arkansas, and was raised by his parents, Noel O. Brown and Zelma Fuller Brown. Dean and his twin sister, Imogene, were always close. They graduated high school with Dean earning the honor of Salutatorian and Imogene Valedictorian.
Dean served honorably as a member of the United States Army and was a Veteran of the Korean War. Following his military service, he attended the University of Arkansas in Fayetteville, where he was a member of Acacia Fraternity and served as president of the Associated Student Government from 1956-57. While at Arkansas, Dean met the love of his life, Carol Joyce Newton. They married in 1960, raised two daughters, and enjoyed 51 years of marriage.
Dean was president of his own financial planning company, and also deeply involved in his community. He served on the board of directors for the Richardson Symphony Orchestra for 15 years, including serving one term as president. Dean was an active member of the First United Methodist Church of Richardson, where he was a Sunday school teacher for 50 years. In 2011 Dean, along with Carol, were named as finalists for Richardson's Hometown Heroes.
Dean was a member of the Dallas County Master Gardener Association, and was known for his own beautiful gardens, as well as providing gardening advice for the challenging Texas climate. Dean specialized in growing caladiums, and every year ordered caladium bulbs for his friends' summer gardens.
Dean was preceded in death by his sister, Imogene, and his wife, Carol. He is survived by many loving family members, including daughters Kimberly and Kelly. Dean will be remembered for his quick wit, hearty laugh, and his choice to seek joy and live a thankful life every day.
A celebration of Dean's life will be held Friday, Jan. 11, at 3 p.m., at the First United Methodist Church of Richardson.
Published January 10, 2019