Wilmer Arthuer Plate
of Jacksonville, AR, 1919 - 2019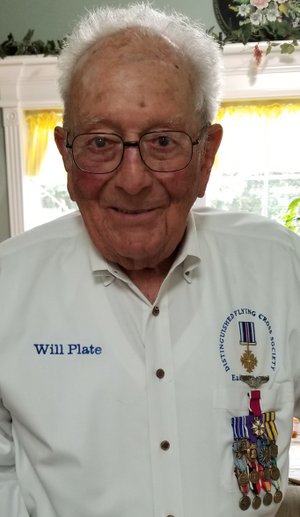 Wilmer Plate was born on May 31,1919 in Bennett, Iowa. He passed away January 1, 2019. His family homesteaded in New Mexico and then moved to Crane, Texas. He met the love of his life, Helen, in Crane and they were married in 1940. After 71 years of marriage his bride passed away in 2011.
June 2, 1942, he enlisted in the US Army, volunteered for the Army Air Corps, was accepted into pilot training class 43-I, graduating on October 1, 1943. After B-24 transition training, he joined the newly activated 489th Bombardment Group (Heavy). After his combat missions, he flew gasoline to General Patton. He left the service in September 1945.
He re-enlisted in the Army but retained his commission in the Army of the United States. He served in the U.S. and Germany until his selection as Warrant Officer in 1957 and was then transferred to the Space and Missile System facility at Los Angeles Air Station as the Maintenance Officer.
After assignment to Goose Bay, Newfoundland and Labrador, Canada, he was reassigned to Los Angeles Air Force Base, as the staff maintenance advisor to General Bernard (Bennie) Schriever, Commander, Air Force Ballistic Missile Division.
In 1971, after 30 years of service, he retired from the Air Force as a Chief Warrant Officer 4 and was awarded the Legion of Merit. Sixteen months later he retired from the Air Force Reserve as a Lieutenant Colonel.
Wilmer penned a memoir, "The Storm Clouds of War: Reflections of a World War II Bomber Pilot" that was published in September 2014, when he was only 95 years old! Another book, a compilation of short stories and vignettes will be published this year.
Besides writing, Will also enjoyed boating, water skiing (until he was nearly 80 years old), fishing, RVing, golfing, and wood working. In addition, at the age of 99, he still worked out with a personal trainer at the Air Force Base Gym twice a week. He said he came with a 100-year warranty but needed some maintenance work occasionally. He lived until the early hours of his hundredth year, so he is getting credit for making it to his 100-year goal!
In 2016, he was decorated as a Knight of the French Legion of Honor for his part in freeing France during WWII. This is equal to the US Medal of Honor.
He was awarded multiple medals related to his outstanding military career. Among them are: French Legion of Honor, Legion of Merit, Distinguished Flying Cross, Purple Heart, Air Medal with Three Oak Leave Clusters, Air Force Commendation Medal with One Oak Leaf.
Nothing was more important to Wilmer than his family. He demonstrated a powerful and loving dedication to his wife, Helen. He was also a dedicated father, grandfather and uncle.
Will was a life enthusiast with a great sense of humor. He made a lasting impact on everyone he met. There aren't many like him left.
He was a member of St. Stephens Episcopal Church, the Eaker Chapter of the Distinguished Flying Cross Society, Veterans of Foreign Wars, Disabled American Veterans, Kentucky Colonels, and Military Officers Association of America. He will always be remembered for his stories, his smile and the twinkle in his eye.
Wilmer is survived by his daughters; Eleanor Isaacsen (Bruce) of Hemet, Calif., Mary Engel (Richard) of Jacksonville. Grandchildren; Karla Wheeler, Sharon Isaacsen, Eric Engel (Athena), Dustin Engel and Captain Heidi Engel, twelve great-grandchildren and seven great-great-grandchildren. He is preceded in death by his wife, Helen (Logue) Plate, father William Plate, mother, Lucy (Riedesel) Plate, brothers, Francis and Henry, sister, Eleanor and grandson, Bruce Isaacsen.
Funeral Service will be held at 2 p.m. January 12, 2019 at St. Stephens Episcopal Church, 2413 Northeastern Ave, Jacksonville, Ark. 72076. Interment will be at Arlington National Cemetery.
Memorials in lieu of flowers may be given to Eaker Chapter of the Distinguished Flying Cross, P.O. Box 6954, Sherwood, Ark. 72124, or St. Stephens Episcopal Church (address above).
Arrangements by Moore's Jacksonville Funeral Home ( 501) 982-2136. Online guestbook: www.mooresjacksonvillefuneralhome.com.

Published January 10, 2019
OBITUARY SUBMITTED BY:
Moore's Jacksonville Funeral Home
1504 Loop Road, Jacksonville, AR
Phone: 501-982-2136
http://www.mooresjacksonvillefuneralhome.com