Zachary Gary Kirchner
Cabot, AR, 2001 - 2018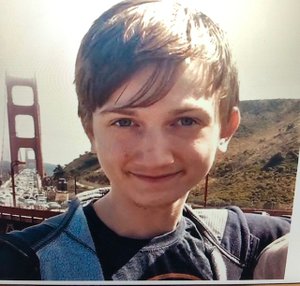 Zachary Gray Kirchner, or the Shamen, died in a car accident on an icy bridge in Bryant on November 14, 2018, his 17th birthday. He is survived by everyone still here trying to figure out why.
Zach loved playing Xbox with his brother, Alex Kirchner, and others he schooled regularly with his wit and tenacity. He also greatly enjoyed writing. He discovered this talent walking the track at St. Theresa School with his best friend, Maria Thomas, who "wrote" with him in conversations. From memes for his iFunny page, "sad cate" (that's "sad cat" said with flare) to his opus about a bad guy that wasn't so bad and a good guy that wasn't so good, Zach passionately developed stories and characters that people could connect to.
Zach did everything differently than most people, from the way he walked and sat, to the way he saw the world. Zach was a Junior at Bryant High, and was easily picked out in a crowd. He'd be wearing some quirky t-shirt, sweatpants and, before hats were banned, his bucket hat. He is loved and respected by so many people for his ability to just be who he is, unapologetically. Unless he realized later that he should apologize.
His intelligence and quick wit gave his mom, Lori Kirchner, and dad, Matthew Kirchner a run for their money almost everyday. He scored a 30 on the ACT as a Sophomore on his first try and asked his brother, "Did I pass?!" Yes, Zach. With flying colors.
Services honoring our lil man will be held at St. Theresa's Catholic Church, 6219 Baseline Rd, Little Rock, Ark. 72209. A Rosary followed by visitation on Friday, January 11th from 6-8 p.m. Funerary mass at noon on Saturday, January 12th. We are also having a celebration of life for family and friends at SpecOps Gaming Lounge on Saturday from 4-8 p.m. Cremation services by Cremation Services of Arkansas (501) 313-5431. www.cremationservicesofarkansas.com.
Published January 10, 2019
OBITUARY SUBMITTED BY:
Cremation Services of Arkansas
806 N. University, Little Rock, AR
E-mail: cremationservicesofarkansas@gmail.com
Phone: 501-313-5431
http://cremationservicesofarkansas.com/